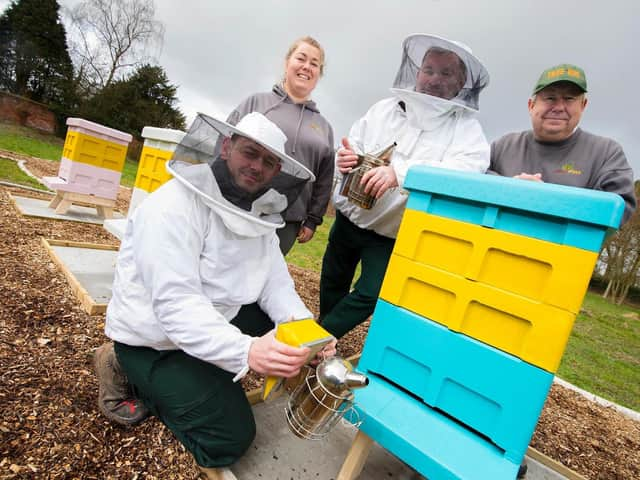 Installing the first hives at the Westleigh Centre, now the project is expanding to UCLan's main campus
The city's showpiece Student Centre project, part of the University of Central Lancashire's £200 million Masterplan, is set to provide new homes for more than 150,00 bees.
Hives are being transferred to the rooftop of the building, above the city centre skyline.
It follows a similar project two years ago when the UCLan estates team installed hives on the roof of the Westleigh Centre in Lea, where the population now stands at more than 250,000.
UCLan is expanding its bee population to include the roof of the new student centre
Staff looking after the bees were given official training and have even manged to produce a small amount of UCLan honey.
The university's head groundsman Dave Genther said: "The plan is to take three hives with about 50,000 bees in each to the rooftop of the new Student Centre.
"They will be entirely safe for students and the public in three polystyrene hives on the roof where we will create a dedicated area for them."
He added: "All the team has got involved and thoroughly enjoyed it. We've had training in establishing a hive, developing the colonies and even honey production.
"We made a small amount of honey for the first time last year and we hope to have UCLan honey at the Student Centre at some stage.
Developing the hives has added a new dimension of work and a sense of health and wellbeing for us all."
Training on beekeeping has been provided by the Tree Bee Society who have even awarded certificates to a number of the staff involved at beginner and intermediate levels.
Besides the new bee population, more than 300 new trees will be planted as part of the masterplan development, in a bid to provide a greener environment for students, staff and local residents.