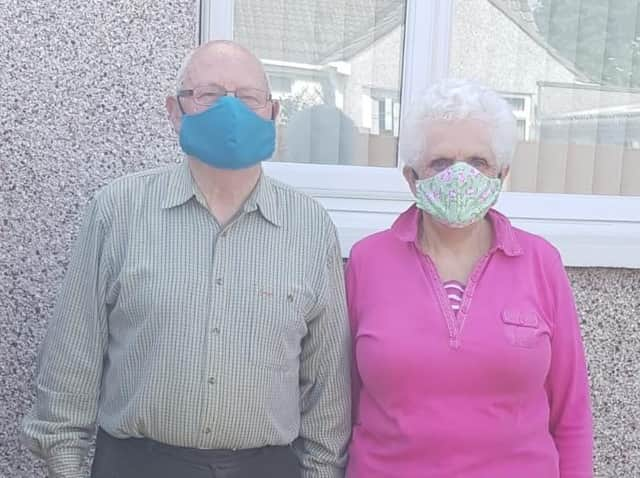 Residents have been provide with hand made face masks by Bay Leadership Academy
Staff and pupils from Bay Leadership Academy have distributed hundreds of pieces of vital protective equipment as part of the Star Academies Coronavirus Appeal.
Working out of the Star Family Hub based at the Morecambe high school, the team has designed and made face masks for key workers as well as face shields, aprons, gloves and safety glasses for health workers, carers and public transport workers.
Many of the masks were made by hand and they recently delivered 150 face masks to residents in the local area.
School principal Colette Roberts making face maks
In total, the school has supplied more than 500 items of PPE to The Bay Medical Group in Heysham, Kirby Lonsdale coaches, The Hillcroft nursing and residential homes in Caton and Morecambe, John Kay Court in Lancaster and local residents who live near to the school.
The school is also helping to organise food parcels for vulnerable people in the local community and has been appointed as a direct agent for Lancashire County Council foodbank.
The hub has also set up a hygiene store and is delivering items to people in need.
School [principal Colette Roberts said: " We have all been working exceptionally hard to help support our community during the coronavirus pandemic.
Pupils are helping with making face masks at Bay Leadership Academy
"We realised early on that a lack of PPE was a likely to be a major problem for health workers, carers and other key workers in our community.
"We decided to get our sewing machines out and take positive steps to help people in our local area.
"We are so very proud to be able to do our bit and help our fantastic key workers who are doing so much to support our community."
She said they are now hoping to expand production to make face masks for taxi drivers and others in the local community.
The coronavirus fundraising appeal is one of several initiatives launched by Star Academies, which includes two schools in Preston, to help those facing difficulties and to support parents and carers throughout the country.
A home learning helpline, StarLine, provides practical education advice to parents and carers and a YouTube broadcast StarLive is broadcast weekly to help parents as they educate their children at home.