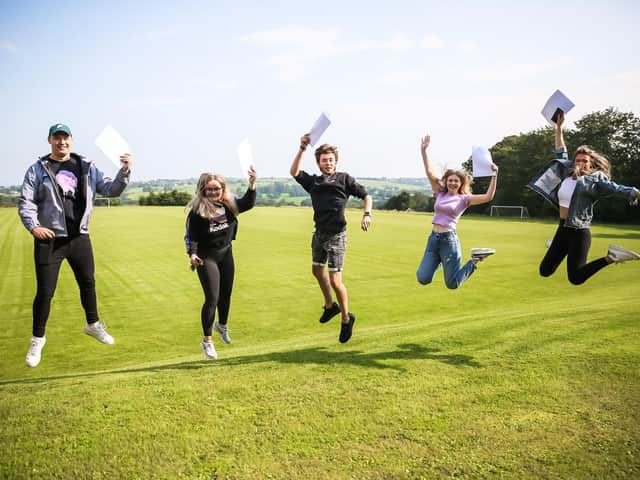 A Level students jump for joy at Westholme School
Abi Lee, 18, from Preston, is delighted after getting an A in the subject she wants to pursue as a career and is now off to study photography at the University of Huddersfield.
She said: "I love capturing nature from different angles, and photography is completely different to other subjects. It's my passion.
"The teachers and the people here at Westholme have a real community feel."
Jake Perry, also from Preston, is looking forward to becoming the third generation of his family to work at BAE Systems.
He received a B and two Cs in geography, maths and physics for his time at the Blackburn school and has been accepted on to degree apprenticeship with the aerospace giant.
He said: "I did my work experience there a couple of years ago and that was it – I knew that was what I wanted to do. BAE Systems had 8,000 applications. Of those they gave out 300 apprenticeships and just a handful of degree apprenticeships.
Emily Berry, 18, from Leyland, was thrilled to get an A in all three of her in her subjects . Emily was relived after opening her grades, even though she was predicted three As in economics, business and English.
She is looking forward to studying accountancy and finance, including a placement, at the University of Manchester- following in the footsteps of her dad who was also an accountant.
The straight-A student said: "I am really happy with my results. I've really enjoyed my time at Westholme School – especially all the extra-curricular activities like the spots and drama. I have enjoyed the whole experience."