Historic 122-year-old Burnley Boys' and Girls' Club on coming back from the brink, the pandemic, and helping kids
Lancashire's oldest youth charity, the Burnley Boys' and Girls' Club dates back to 1899.
By
Jack Marshall, Reporter
Thursday, 11th February 2021, 7:00 am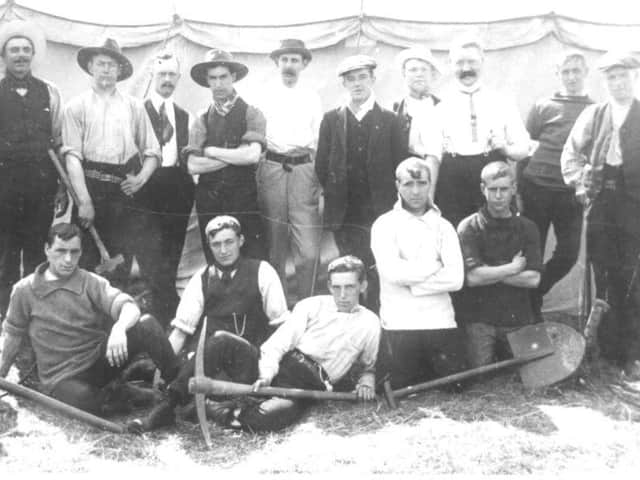 Henry Davison Riley (back row, fifth from left), the Preston-born founder of the club
Founded as the Burnley Lads' Club by Preston-born war hero and former member of the Accrington Pals, Henry Davison Riley, it was initially a sanctuary for local boys caught up in the nefarious gangs of 'scuttlers' that plagued the North West at the turn of the century but grew into much, much more.
By the eve of the First World War, the club boasted games rooms, sports teams, a gym, a reading room, and an annual seaside camp, with evening classes ranging from English and mathematics to drawing. Riley himself was held in such esteem that, when he went to war in France, 600 fellow members followed.
And at the Battle of the Somme in 1916, the legendary founder died alongside 125 of his brothers from the club.
Centre Manager, Graham Vernon
Today, the club supports young people by creating a safe and friendly atmosphere in which they can learn and socialise, whilst also promoting mental well-being amongst members and the local community alike. Having briefly closed almost three years ago due to dwindling numbers, Centre Manager Graham Vernon has since overseen the club's resurgence and emergence as a real pillar of the community.
"I don't know what it is, but people from Burnley always seem to give you that extra smile so, when I was approached to take over, I jumped at the chance," explains Graham, 47, from Rochdale. "On my first day, we had £1,500 in the bank and a water bill for £2,000. The club had gone, but when I walked in the place, the walls talked to me; you could feel the history and I fell in love with it.
"Anything I could do to help, I was going to do it," he adds. "Two-and-a-half years later, we're absolutely smashing it - we started out with 65 members, now we have 482. There's so much pride in that and in the fact that the kids have taken ownership, which is what was needed because it's their club.
"The club is a sanctuary for young people, everyone is welcome and everyone is offered the same chance."
Having merged with the Police Youth Club in 1968 to become the Burnley Boys' Club before being renamed as the Burnley Boys' and Girls' Club in 2011, the establishment was - prior to the pandemic - hosting regular open sessions featuring a range of sports, arts and crafts, dance and drama, and a chill-out zone.
"People ask what our secret it, but what we do isn't complicated: we give kids space and love and respect," says Graham. "Communication is key; we do what it says on the tin. Young people tell us what they want and we facilitate that - some kids asked for supper of a night, so we went to Gregg's and now they donate all their leftover pasties and sandwiches four nights a week. Sorted.
"The beauty of BBGC now is also how diverse we are - 20% of our members are from the BAME community and, when people from diverse backgrounds come together as friends, it results in some pretty amazing things," he continues. "For example, at summer school we had ordinary burgers and halal burgers, and two kids started a conversation about halal and what it was.
"The day after, loads kids wanted to try the halal burgers; we hadn't instigated it, it happened organically."
Supported by the Community Foundation for Lancashire and working closely with Lancashire County Council's Children and Family Wellbeing Service and the Child Sexual Exploitation team to offer children help, the club has come a long way over the past five years or so and now even has five paid members of staff and seven volunteers.
But still, Graham says lockdown has been tough.
"The first lockdown was a nightmare and, during the pandemic, the club has been more of a lifeline than ever," he says. "We opened a text line, which received 21,000 messages, but despite that we only had to refer one person to safeguarding because our staff smashed it. These kids were just bored and scared about the unknown; they needed somebody they could trust.
"We're the jam to everyone's butty and I love the work," says Graham. "I couldn't do anything else."