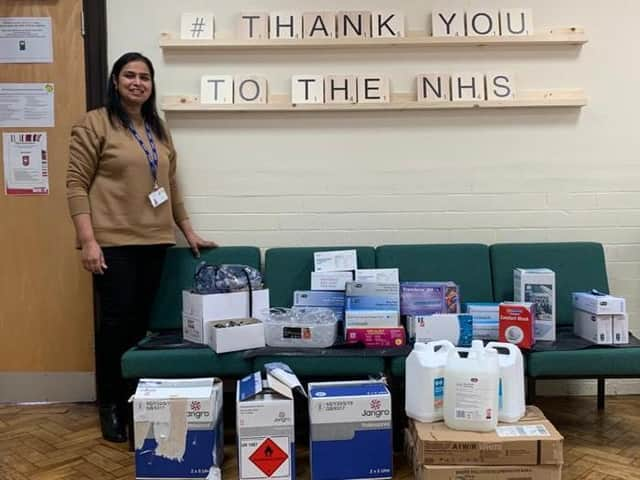 Eldon Primary headteacher Azra Butt with some of the goods collected for the NHS. Now she is fasting to boost NHS charities
Eldon Primary headteacher Azra Butt, class teacher Louise Ireton and school sponsor Andy Bradshaw, who has recovered from Covid-19, are taking part in the 'I will fast 4 1 day' campaign.
This has been set up by The Saffron Group across the country to give people an insight into the Muslim festival of Ramadan, which sees people fasting daily for a lunar month and raise money for the NHS while showing solidarity with the community.
Many of the youngsters at the Plungington school are from Muslim families who are currently celebrating in lockdown, many fasting for up to 18 hours.
Eldon School sponsor Andy Bradshaw recovered from coronavirus and helped rally equipment for RPH. Now he is fasting to swell funds for the NHS charities
Azra said: " "Several of the staff at Eldon are fasting. It's fabulous that our colleagues and friends want to give it ago, to see what it is like, for the day.
"A few of us are actually cooking for them for their end of day 'iftar' feast! Food parcels are being delivered to their doors."
The headteacher added: " To abstain from food and water for such a long time is a huge undertaking, especially if you are not used to it. Being sponsored for this, so that the funds go to the NHS is magnificent.
The whole nation solutes the NHS every Thursday and this is a fab way of doing the same. With the focus on supporting our NHS at this challenging time, its great that we can show some solidarity and for communities to come together, in this way, at this very difficult time. "
Team Eldon are being sponsored to neither eat nor drink and the proceeds of their efforts will be used to swell NHS charities.
Louise is keeping a diary and the group are making regular contact with the people fasting via zoom meetings.
Staff at Eldon Primary School have shown support for the NHS by rallying other schools to muster PPE for the Royal Preston Hospital and care givers and has a large contingent of key workers and wanted to support the community.
A Just Giving page has been setup for those taking part – https://www.justgiving.com/fundraising/saffron-group