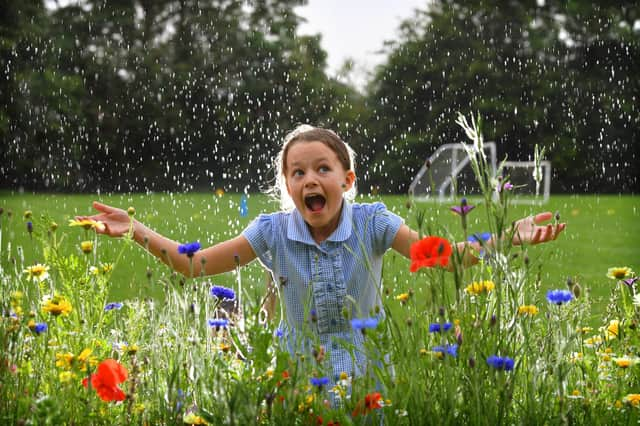 Barnacre Road Primary School wild flower garden - Isla gets caught in a downpour
Year 4 students at Barnacre Road Primary School planted a wildflower strip in their school grounds earlier this year, hoping to attract insects.
Part of the school's wider programme of encouraging outdoor learning and promoting enviornmentally concious actions, the garden is now in full bloom and already making a difference to the insect population.
Year 4 teacher Sam Mosely said: "Here at Barnacre we try our best to improve the environment whenever possible for the wildlife around us. We have a woodland site up near Spade Mill reservoir that over the last 10 years has been developed by our pupils, planting hundreds of trees and bulbs. We maintain the site and then use it for art, orienteering, science lessons, anything we can find that links to the National curriculum.
Barnacre Road Primary School wild flower garden - George, Iris, Ava and Mason
"On our school site we are lucky enough to have an amazing field that houses a vegetable garden and greenhouse, which provides some supplies for our kitchen. We have an orchard area with fruit trees, and an outdoor classroom. We are also in the process of building a pond to attract wildlife, and I am in the process of planning with the children a wild herb spiral to attract more bees.
"So when a large bed became available, my year 4 class, all 19 of them dug over the ground....it is about 40 feet in length. That was a task! The ground was so compacted, it took a lot of effort to prepare. Then we planted wild flowers in sections so we would have a display for many months to come. We left a few weeks in between each section to ensure a continued display. The second lot of seeds we scattered we received from the Tower of London as part of the Queen's Platinum Jubilee celebrations. They are rich with beautiful cornflowers, purple in keeping with the main colour theme of the Jubilee celebrations. They are just beginning to come into flower.
"The bed was planted to increase the insect population we have in the school grounds and my class have carried out bee surveys around the field to determine which areas are more populated. Our wild flower bed wins hands down. Every day the bed changes as more, new, different varieties of flowers burst into bloom. The children have done an amazing job doing the hard work to get the ground ready. My playground duty now includes a check on the bed to see what we have that is new and what insects we have."
Barnacre Road Primary School wild flower garden - Carter
Our photographer went down to caputre pictures of the spectacular garden, and it still looked glorious, despite a sudden downpour of rain.
In the future, headteacher Simon Wallis says they have many other ideas in the pipeline, including introducing hens, and honey bees to the school.
Barnacre also has environment days each half term , with the next one being planned for next Thursday- as long as the rain stays away this time!
Barnacre Road Primary School wild flower garden
Barnacre Road Primary School wild flower garden - Freddie and Jess
Barnacre Road Primary School wild flower garden - Molly and a poppy