How Gibraltar became a hotspot for gaming and crypto currency
Online gaming and crypto currencies are becoming increasingly popular in today's modern and technological world. Gibraltar, a British Overseas Territory, has established itself as a hotspot for these two markets. But why is this this tax haven becoming so popular?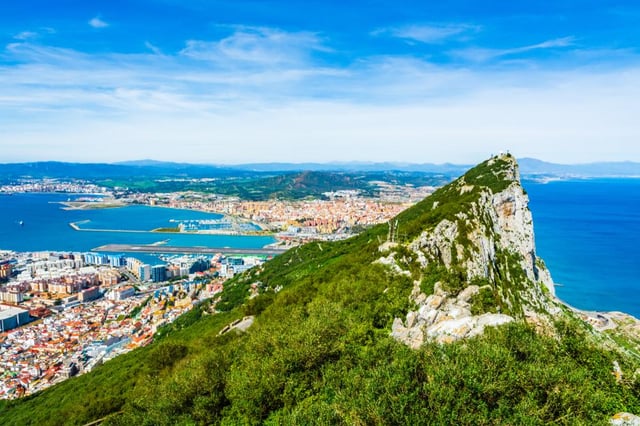 From port economy to international finance hub: the overseas territory which is leading the way.
Gibraltar is a British Overseas Territory located on the Southernmost tip of the Iberian Peninsula, which juts into the entrance of the Mediterranean Sea. There are 14 British Overseas Territories, including Bermuda and Falkland Islands, which are the two most well-known alongside Gibraltar. The official currency is the Gibraltar Pound, which is pegged to the Pound Sterling. UK notes and coins are also accepted in Gibraltar. Most shops also accept Euros but this not Gibraltar's official currency.
Gibraltar's history of trading
In the mid-18th century, the port of Gibraltar became a naval station for the Royal Navy. Therefore, Britain having the port secured, turned their main focus to exploiting the port's economic assets. After this, the port allowed the distribution of goods to all over Europe making it the best efficient way to import and export to Europe and the Mediterranean Sea. As a result of being one of the busiest ports in the world this created opportunities. As the centre of the international trade market, the port of Gibraltar had large amount of currency transaction during this trading.
However, in 1982, Gibraltar's economy suffered heavily after the closure of the dockyard. It was marked by a rapid rise in smuggling. A Gibraltarian trade unionist, Mr Bossano described the closure of the Gibraltar dockyard as, "a watershed for Gibraltar in its economic history." For this reason, the Gibraltar government had to diversify the economy and promote new industries. This coincided with the rise of e-commerce and internet usage which was when the emerging of online gaming was occurring.
Gibraltar also became a hot spot destination for crypto currency. Gibraltar is well known as a low taxation environment. It does not impose capital gains or dividend tax on cryptocurrencies, and crypto exchanges are rated as a business. This comprises of a very friendly 10 per cent corporate income tax rate, making crypto currency a highly attractive niche for Gibraltar. It recently hosted the first international post-pandemic crypto event on October 8, 2021 where 300 crypto enthusiasts and investors attended. Alongside this, it is also one of the world's largest gaming hubs in the world with incredibly low taxes and some of the biggest names in the online industry residing there, including Lottoland.
Initially, the online gaming industry started out with betting-by-phone but, thanks to precise legislation enacted by Gibraltar, the jurisdiction was able to quickly capitalise on the explosion in online gaming at the end of the 1990s.
Gibraltar is a haven for online gaming companies mainly due to the tax benefits afforded to them by the local government. Currently Gibraltar oversees 60 per cent of all global online gaming. Gibraltar is the largest and the most successful governance in the world of online gaming. Online gaming is a booming part of e-commerce and Gibraltar is taking advantage of that.
There are over 38 online gambling companies in Gibraltar and many of these are listed on the London Stock Market. The online gambling industry in Gibraltar employs over 1,800 people, which is more than 14 per cent of its entire workforce. This figure is quite astounding when you consider that the total population is 33,768 and the gross area is only 2.5 square miles.
The government is both supportive of new gaming companies and encouraging for them, realising the importance of the sector for the overseas territory. The regulations and standards are still first-class, though, so nothing is allowed to slip. Given that the online gaming sector contributes about 25 per cent of the GDP in Gibraltar, it's understandable that the government wants companies in the sector to be as successful as possible.
Companies based in Gibraltar pay 10 per cent corporation tax, PAYE and just 0.15 per cent of Gross Gambling Yield. Additionally, there's no capital gains tax or Value Added Tax to be paid. This makes it a highly attractive position to the companies that are based there with online businesses. Due to this, roughly 75 per cent of UK betting activity takes place from Gibraltar.
One online gaming company which took advantage of Gibraltar's benefits since 2013 and is growing more and more each day is Lottoland's Head Office based in Gibraltar whilst being a worldwide hub for the online gaming industry.
How is Lottoland revolutionising online gaming?
Popular forms of online gaming include online casino games, online poker games and sports book operators. However, Lottoland has revolutionised the concept of online gaming by offering these services plus more.
At Lottoland you bet on the outcome of the official draw. For all intents and purposes, you will have the exact same customer experience as if you were playing the official lottery. The key difference is that we take your bet and then we pay you if you win.
You are able to achieve this in two ways. For smaller prize tier payments, Lottoland makes the payment directly from the fund from the total ticket sales. In order for us to make the larger prize tier payments Lottoland takes out insurance policies to cover the eventuality of a Jackpot win or a substantial pay-out on the Lotto bet.
With Lottoland you can bet on the EuroMillions with Millionaire and EuroJackpot. From the States there's the supersized MegaMillions and PowerBall draws. Additionally, you can bet on the Irish Lotto, Polish Lotto, four lotteries from Australia and many more big draws from Europe and beyond.
Lottoland also have a range of exciting casino games, instant win games and scratch-cards, with top prizes of €1 million available! Every day you can take the chance to become a millionaire. You might be able to come visit Gibraltar for yourself one day!
Crypto currency – Why Gibraltar?
In only 40 years, Gibraltar has transformed themselves from a port economy to an international finance hub due to its regulatory regime for blockchain firms at the start of 2018 based on English law and growing reputation as an offshore-banking haven. Today, the government is adding the flourishing crypto currency sector to its highly selective portfolio.
Since the implementation of the 2018 regulatory regime, Gibraltar has attracted a number of industry-leading firms, including major crypto exchange Huobi and crypto and payments platform Xapo. Gibraltar has now created a reputation as one of the world's leading finance hubs which has gained some serious pulling-power when attracting prospective crypto companies.
For many people not actively involved in international finance, offshore banking hubs raise eyebrows. This is understandable since the explosive findings in the 2015 Panama Papers which highlighted many small finance-focused territories that place a premium on corporate privacy, which have become interchangeable with illegal activity. However, the regulation-first approach that Gibraltar implemented, set it apart.
Gibraltar has a strong record of pursing quality over quantity as displayed with their approach to the gaming industry, with only certified brands licensed to operate in the jurisdiction and their strong regulatory framework. Companies believe that their aim is to be equally selective in order to attract reputable operators who understand and embrace the commercial and reputational benefits of operating under a respected regulatory framework.
For this reason, an annual research report into the global Crypto Hedge Fund space, commissioned by PwC and Elwood Asset Management, has seen Gibraltar secure its place as the third preferred jurisdiction for the domiciliation of hedge funds, behind the Cayman Islands and the United States.
While the Cayman Islands and the United States maintained their position as the top-two places where crypto hedge funds are domiciled, their market share declined overall. Meanwhile, Gibraltar overtook the BVI and Luxembourg, pushing down Liechtenstein to less than 5 per cent.
Can you travel to Gibraltar?
Gibraltar has the highest level of COVID-19 vaccination rates over the age of 18 of any country in the world. Consequently, it is on the UK Government's green list.
Anyone with the right travel documents can travel. Lots of nationalities can still enter without any restrictions. Anyone from the UK, an EU country, plus Jersey, Guernsey, the Isle of Man, Andorra, Monaco, San Marino and the Vatican.
Anyone on the current list of countries allowed into the EU is also allowed to visit unrestrictedly – at the moment, this is Iceland, Liechtenstein, Norway, Switzerland, Australia, Canada, Georgia, Japan, New Zealand, Rwanda, South Korea, Thailand, Tunisia, Uruguay and China.
So, book yourself a flight to this lovely, little, unique city and experience it for yourself! In the meantime, take a look into the upcoming crypto and online gaming markets – who knows it may end up paying for your trip over!
Please gamble responsibly. You must be over 18 to play the lottery. When the fun stops, stop. Be Gamble Aware – for help and guidance click here.