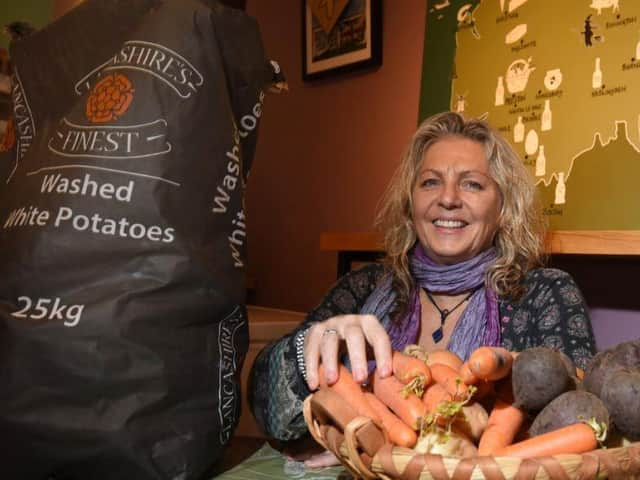 Kay Johnso was recently awarded an MBE for her work with the community
The Larder on Lancaster Road has teamed up with the Roddick Foundation to encourage people to think about where their food comes from and to shop local through a new scheme, Farming the Future.
They are aiming to reach hundreds of thousands of people with a social media campaign to build on the success of the recent Fiver Fest campaign, which asked residents to spend £5 at small independent traders this month.
The Larder will also be hosting Preston's first community cook-a-long, by distributing hundreds of free ingredient kits to get families across the city preparing over 1,000 portions of Lancashire Hotpot - all using ingredients sourced from within a 30-mile radius.
Kay Johnson, recently awarded an MBE for her work with the community, and her team at the Larder have been working with The Roddick Foundation, Studio Helicar, and Proud Robinson for a number of months as part of the Foundation's Farming the Future initiative.
"We want to encourage people to think about what they are eating, where it comes from, and where their money goes every time they go out shopping for food," said Kay.
"Given the current Covid crisis, and as we enter into what is likely to be one of the toughest winters we have ever faced as a community and a country, the opportunity to learn together, cook together, and lean into the power of local, is something that the people of Preston will embrace with open arms."
Working alongside activist Samantha Roddick, who's parents co-founded The Body Shop, Kay hopes to change the attitudes of people and develop the Preston model to include the food system.
The Larder cafe, on Lancaster Road
Samantha said: "Farming the future is a collaboration between foundations, activists and organisations on the ground who are farmers, social enterprises like the Larder, and people battling to make the food system fairer and more accessible for all.
"It is about recognising those at the lower end of the equality equation and how they are represented. There are so many small holding farmers doing amazing championing work, feeding the nation and putting crops into food aid doing really incredible things.
"Kay at the Larder is one of those people, working for those who don't have access to nutritional home cooked food whilst encouraging people to consider where their food comes from and supporting the local message and the amazing people who create our food system."
"Local people have to be aware of local traders and not just be marketed towards big retailers, I wonder if people are holding choice over where they purchase their food, or whether they are force fed that shopping at the likes of Tesco is the only option.
From left, Dana Britton, Victoria Dyer, Leah Milburn and Kay Johnson from The Larder
"The public need to know that if they took their money and put it into their local economy, they are ensuring a more job resilient community for all. Don't outsource cash, keep is local and as close to those who you love and who you see every day including local growers, producers and shops.
"That is what is missing in the Preston model and what we hope to change. If we could wake up every day and grasp that the food system is part of the local economy and revert back to our old fashioned values of supporting and taking care of the community, then it would ensure us a safer and more robust society."
As the first of a series of initiatives designed to engage the people of Preston in the local food system, the 'Preston Plate' aims to showcase the principles of supporting local small businesses, growers and producers.
In addition to continuing to promote a shop local message, the Preston Plate will see the Larder working with the local businesses being promoted by the campaign, to prepare and distribute free meal kits to families across the city on November 12.
Starting with a two-week social campaign using Facebook and Instagram, the Larder will be targeting hundreds of thousands of people living within a 10-mile radius of Preston, with a set of four shop local messages showcasing how much money leaves a community when people shop in supermarkets or online.
Each of the four messages will also support a different local business that offers delivery, along with pushing people through to the Larder's website where a longer list of local businesses offering local produce will be found.
The Larder will also be hosting Preston's first community cook-a-long, by distributing hundreds of free ingredient kits to get families across the city preparing over 1,000 portions of Lancashire Hotpot using ingredients sourced from within a 30-mile radius.
Kay and her team will be hosting a live cook-a-long in addition to posting easy to replicate tutorial videos for people to follow at home as a family.
She added: "The main thing we are focusing on at the moment is the campaign we are running with the Roddick Foundation, and are hoping to continue doing the work we do with a local approach."
The Larder promotes food that is healthy, local, seasonal and considered to be low waste. They work through their cafe and catering business, food academy and network of Lancashire farmers and producers.
In March, they put out a social media post aiming to get nutrious cooked meals distributed to vulnerable Preston residents, that encouraged 30 volunteers to come forward, within 24 hours.
And Building on the success of their 'Kids in the Kitchen' programme, the Larder will also be working with the Community Gateway Association to distribute enough free ingredient kits to feed 1,000 local people as part of their new bake off scheme.
Tenants had the opportunity to take part in their Big Bake Off, to coincide with national baking week and encourage families to cook and eat together using local produce.
The free meal kits will include a spiced Pumpkin Soup and everything needed to make a Lancashire Hotpot - with ingredients sourced from traders within 30 miles of Preston.
The Larder sourced all the ingredients locally and parcels were made up for each family with ingredients and an online tutorial showing them how to bake the perfect cake.
Sharon Grimshaw, Community Engagement & Support Officer said: "Kids in the Kitchen was a huge success over Easter and Summer and we are delighted to be able to be a part of this once again.
"It is such a rewarding experience when you see the smiling faces of families receiving their kits and baking together."
Kids in the Kitchen aims to provide family fun during this difficult time and encourage families to use cooking as a form of family activity and interaction.