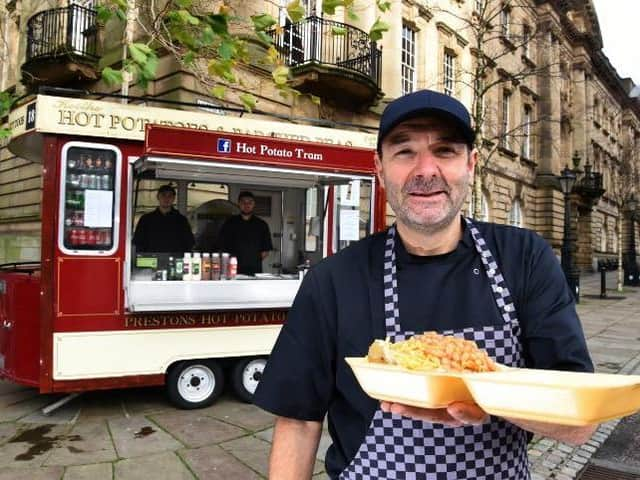 The Hot Potato Tram open again on Preston Flag Market with Tony Nelson taking over
After the tragic death of the 'spudman' Keith Roberts, it was announced last week that the much-loved hot potato tram would be making a return to its signature spot on Preston's Flag Market.
And this morning, November 2, at 11am, family friend Tony Nelson took over the tram with sons Harley and Jake.
Continuing to offer the same famous hot potatoes with filling, Tony was set to continue running the popular family potato business after Keith was first diagnosed with cancer.
The takeaway tram opened again on Preston Flag Market with Tony Nelson and his sons Harley and Jake
The death of Keith Roberts, known locally as 'spudman', shocked the city earlier this month - but his legacy is now set to continue as the the tram is back in business.
Tony, a former sales manager for Carlsberg, previously said: "It's an exciting venture. I'll put all my energy into it and try to serve the people of Preston as well as Keith and his family.
"The enterprise will be a memorial to Keith, to his popularity and the simple, hearty fare for which he was known.
"Prestonians can look forward to the familiar sight of the welcoming tram in its customary place on the flag market, serving hot, tasty food to cheer them up as the days shorten and the cold weather moves in."
Tony was a friend of Keith's and was set to take over the popular tram, which is a statement in Preston
In exciting plans to develop the menu, Tony will be adding hot traditional homemade soups, breakfasts and both hot and cold drinks, alongside the famously popular baked potatoes and parched peas.
The tram will also continue to cater for special events such as weddings, parties and birthdays and can be booked privately.
More information can be found at the hot potato tram Facebook page HERE.