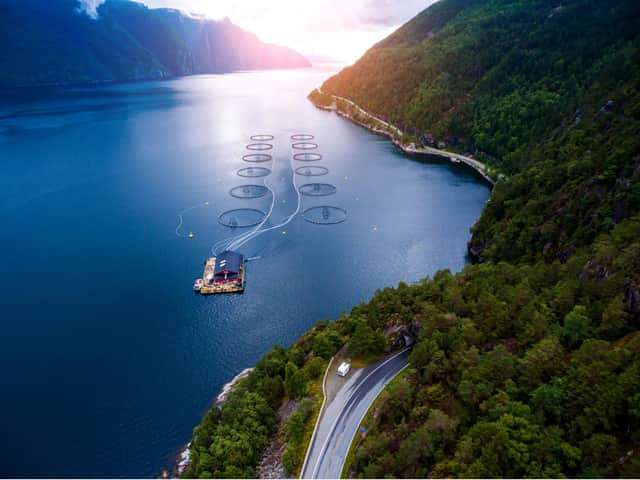 Fish farms as increasingly crucial in producing sustainable fish stocks
Creating an acoustic barrier around fish farms, SealFence uses sound-waves to deter seals and sea lions from eating the stock, warding them off in a humane fashion and protecting farmers' yields. And the company behind such an ingenious invention is OTAQ Aquaculture, a subsidiary of OTAQ plc.
OTAQ Group designs, develops, and manufactures world-class marine technology which is then used across myriad sectors from aquaculture to offshore energy. The company is made up of three divisions: OTAQ Aquaculture, OTAQ Offshore, and OTAQ Connectors.
"We're always working on something exciting," explains Lancaster-born Marketing Manager Katie Hodgson, who joined the company a year ago to manage the OTAQ brand across the group. "One of the main reasons I enjoy the work is that we're so invested in research programmes; our strategy has been implemented to enable us to remain at the forefront of underwater technology and our main focus at the moment is developing new technologies for sustainable food markets.
Mechanical Design Engineer Sam Clegg
"There aren't many businesses in the world doing what we do," adds Katie, 27. "For example, we're currently investing in a shrimp measurement system and a live plankton analysis system, and our most recent project involves developing seabed landers that are used by oceanographers and scientists to analyse what's happening on the seabed."
Each branch of the company does incredible work in its own right.
OTAQ Aquaculture works to meet the ever-changing demands of modern fisheries in an era where sustainable production is paramount and aquaculture is the world's fastest-growing food sector. Global fish trade rose by more than $150bn in 2017 alone and over 1,300 SealFence systems have been deployed since 2014 as far and wide as Russia and Chile.
Working with industries such as the global subsea oil and gas sector, oceanographic research, and renewable energy production, OTAQ Offshore specialises in tech for the most hostile of environments such as their OceanSENSE leak detection systems, DragonFish laser measurement system, and Eagle IP advanced underwater HD cameras.
OTAQ Aquaculture's seabed lander
And, finally, OTAQ Connectors makes products designed to operate in some of the planet's most challenging conditions, testing them at their in-house engineering, manufacturing, and pressure-testing facility before they're used in offshore oil and gas extraction, seismic monitoring, commercial diving, nuclear industry, and renewable energy production.
"It's such an exciting industry to work in," says Mechanical Design Engineer Sam Clegg, who's from Kendal and who has worked at OTAQ for just over two years. "One day you'll be working on something for somewhere in the Outer Hebrides and the next you're doing something for a fish farm in Chile.
"Not many people would think there'd be a company like this in Lancaster, but it's so rewarding to know the work really can make a difference, because the tech has so many different applications," adds Sam, 30. "I really enjoy working closely with customers and getting hands-on with tech. It's great because, from a development point of view, there's always new stuff in the pipeline and knowing you can be a part of that is really fulfilling."
With around 45 members of staff across numerous sites, including one in Chile, the company did not furlough anyone during lockdown, with Katie explaining that - apart from offshore projects - business has remained relatively steady.
"We all continued to work, so we've been really lucky in that regard," says Katie. "Working from home made everything a little trickier, but we've just had to look for alternative methods of doing business to make sure we stand out.
"We're constantly developing a range of weird and wonderful technologies," she adds. "I learn something new every day."