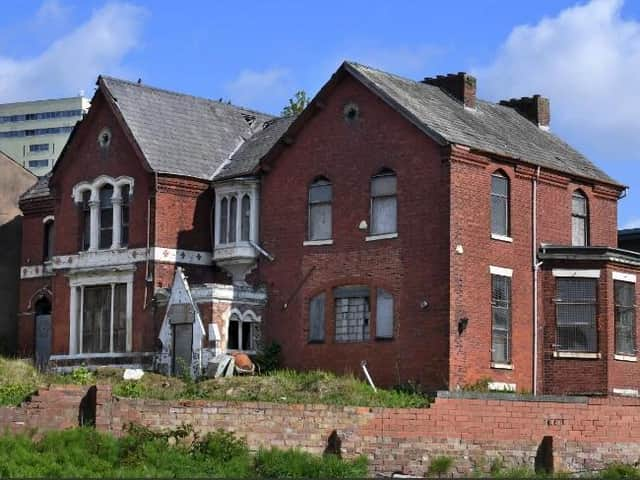 The large Victorian building is now said to be 'very unsafe.'
The former synagogue in Avenham, which was used for worship for half a century until it became a Hindu temple, will be bulldozed and replaced by nine homes if the latest plan before the city council gets the nod.
This will be the third time since 2007 councillors have been asked for permission to flatten the crumbling Victorian property in Avenham Place. The previous two requests were approved, but the building has remained standing.
Now a new developer has come forward with plans to demolish it and build a cluster of four and five-bedroom houses on the sloping plot of land.
Vandal attacks have become a weekly occurrence say developers.
The 10-bedroom property, built as a headmaster's house for a nearby school, has stood empty for the past 12 years.
A planning document submitted to the council says the building is derelict and has been badly neglected and vandalised. It is now deemed unsafe.
A structural survey says: "The whole of this building has undergone some level of structural failure and the severity of the movement sustained effectively precludes economic repair and reinstatement.
"The largest problem with the building is that it is suffering from vandalism problems with the building being attacked on a weekly basis, which is accelerating the deterioration to the fabric and making it very unsafe.
"Therefore demolition of this property is seen as the only way forward."
Preston's Jewish community developed towards the end of the 19th century and reached a peak of around 300 just after the Second World War. But by 1990 it had dwindled to just 25 people.
After a series of temporary early meeting places, the congregation bought the secluded house in Avenham Place in 1932.
It was used as a synagogue until 1982 when the Jewish congregation had become too small to maintain it.
The building was bought for £35,000 by the Swaminarayah Hindu Mission who opened it as a temple in 1984.
But by 2008 the Hindu community had outgrown the property and moved to larger premises in Bow Lane.