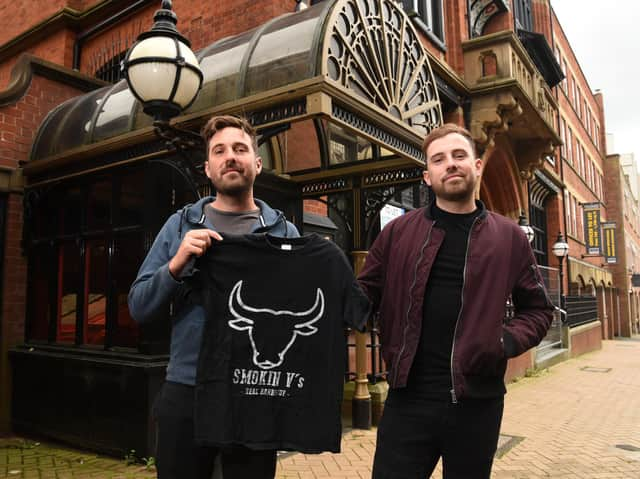 BBQ Brothers Dave and Dan Valentine
Brothers Dave and Dan Valentine are well-known for their concoctions of barbecue dishes inspired from across the pond, from their past year working the kitchen five days a week at pub Ships and Giggles.
Now, the pair have announced they are Preston's new home for American Barbecue as they embark on their new venture - moving into their own restaurant on Guildhall Street.
"We have had a cracking year working at Ships and Giggles, it has amazed us the response we got from the food. We have been changing suppliers and constantly working on our cooking techniques and the way we do things moving forward," said Dave.
The brotherly duo hope to open their restaurant as soon as September.
"We have been so happy this year but almost began to outgrow the kitchen and wanted to continue developing our business. We thought opening our own restaurant was a long shot, but we viewed the property and thought it was perfect for us.
"Coronavirus has given us the time to develop our business and work on new stuff for the menu. The downtime has definitely been a strain on our business but has meant we can be prepared going in to our next venture."
The inspiration for a BBQ restaurant came from enjoying cooking as teenagers, but was kickstarted when Dave built his own smoker to cook a pig for a friend's stag party four years ago.
From there, Dave and Dan began cooking in the back garden at their mums house, toured UK festivals as a street food vendor and then took over the kitchen at Ships and Giggles, on Fylde Road.
"We are going to try our best to open up in September, but first we need to add our touch on the building and add all the finishing touches but we are trying to open as early as we can," said Dave.
"It's been weird going from barbecuing food six days a week to being completely cut off because of the pandemic. It was hard at first, but luckily we have kept ourselves ticking over and have got the funding we needed to try and go for opening our own restaurant."
The Old Cocktail Factory will now be a home to their burgers and a selection of US-style BBQ ribs, however the brotherly duo have yet to set an opening date for their newest announcement.
Their original post, announcing the news, was liked almost 700 times on their Facebook page and received an array of positive comments, leaving owners Dave and Dan "blown away" by the response.
Their new menu will include the usual BBQ menu, alongside cocktails and signature beers and ales.
More information on their opening date and mouthwatering cookery videos can be watched on their Facebook page.