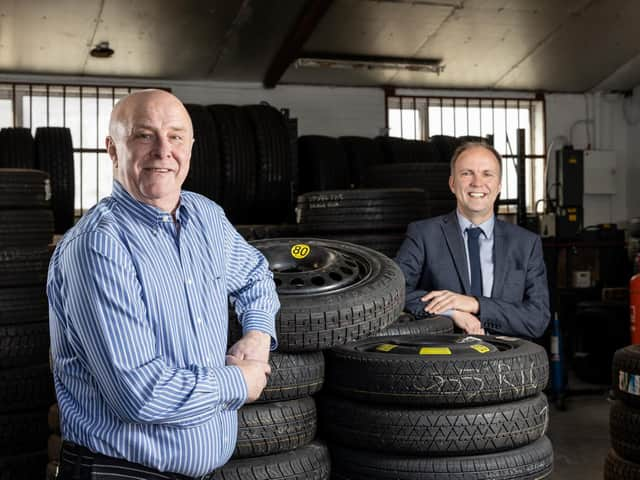 From left, Andy Wess of Wess Tyres and Alistair Igo of FW Capital
The money came via FW Capital Debt Finance, which is part of the Northern Powerhouse Investment Fund.
Morecambe-based Wess Tyre Traders Limited source and trade in the major tyre brands worldwide.
The company also represents several manufacturers from South East Asia shipping to tyre suppliers across the globe including the USA, Netherlands, South America, Australia and South Africa.
FW Capital provided a £225,000 NPIF loan backed by CBILS to fund the expansion of Wess Tyre Traders' UK operation as the travel restrictions imposed at during the Covid-19 outbreak made it difficult for the company to carry out its business abroad.
The company is now back on track and has recently taken on two new staff taking the total to five.
Turnover this year is expected to reach £6m and is on target hit £10m during the next three years.
Owner Andy Wess, who has over 40 years' experience in the tyre trade, set up the company five years ago.
He said: "After so many years in the business, I have built up a network of contacts all of the world and spend a lot of time travelling abroad to source and sell products also to oversee shipments.
"Unfortunately, the pandemic made international travel very difficult, so it was really important for us to increase our presence here as there are lots of opportunities for us to expand in the UK."
He added: "We've just taken on another small warehouse in Morecambe and needed working capital to increase stock purchase and hire two new staff.
"FW Capital were brilliant to deal with, they have a real 'can do' attitude and look for all the reasons they should lend rather than reasons they shouldn't which has been my experience with the high street banks."
FW Capital portfolio executive Alistair Igo added "Wess Tyre Traders is an extremely well-run business.
"Andy really knows his trade well."