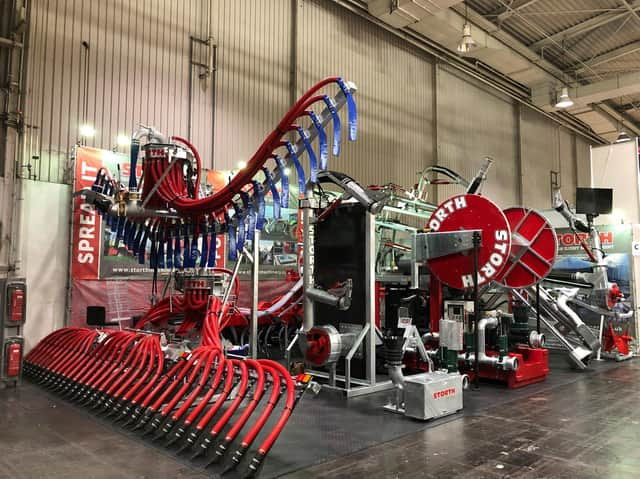 Storth equipment
An agricultural machine manufacturer, Storth are experts in slurry management, selling their products to dairy and pig farmers all over the world. Having founded the company after their previous employer went into administration, Chris and Alan soon developed new-and-improved machinery. The industry took notice.
Creating unique products which saw demand skyrocket, Storth made appearances at the Royal Show and the Royal Welsh Show in 2003, spreading word of mouth even further. Now the firm has three workshops and has been using digital tools to maintain production throughout the coronavirus-imposed lockdown.
"We're very specific in the agricultural industry in that we supply machines to farmers that manage animal slurry, so obviously production carries on and nothing has changed massively from our customers' point of view," says Export Manager Julian Lopez, 48. "Largely, orders haven't really dipped in the UK."
"Outside the UK has been a bit different because dealers haven't been able to physically go out and meet customers," adds Julian, who's from Manchester and was raised in France. "Covid also coincided with Spring when a lot of arable farmers start planting their crops and are busy anyway," he adds. "So we have seen a slight drop in export sales, no question about it."
In recent months, the company has been working with Made Smarter, a North West adoption pilot programme which helps businesses embrace technology to promote development, to implement a new robotic welding system which works twice as fast as humans, allowing employees to take on more technical roles whilst increasing productivity.
Such developments have proved invaluable during lockdown.
"We've had staff isolating, which has affected production as we haven't got the staff to physically get orders out of the door as quickly as we'd like," explains Julian. "But the robot welder certainly came in handy. It took away a really boring and repetitive job and allowed welders to work with more difficult machinery.
Outside the Storth HQ, Julian Lopez on the left.
"It's putting expertise to work far more efficiently, which is a big bonus," adds Julian, who has worked at Storth since January 2018. "Having skilled welders and fabricators working on and modifying machines to meet particular needs means that they're always developing new ideas. Having skilled people doing skilled work is not only a better use of their knowledge, but far more interesting for them, too."
With a digital roadmapping workshop identifying potential areas for improvement in sales, systems, resource and production planning, and automation, Storth is now looking to digitally upgrade other processes to enable them to carry out unsupervised automatic cutting and feeding during the night on top of other new IT solutions.
"The workshop exposed our inefficiencies and our old-fashioned ways and kick-started a cultural shift," says Julian, who can spend up to a third of the year abroad chasing new business. "The pandemic has illustrated the need to embrace emerging technologies to overcome challenges and remove the barriers to growth."
But embracing the new is what Storth is all about. "This is the first job where, as a salesman, I've also actually designed a product," says Julian. "After coming back from China, a client needed a particular machine. Chris Richardson said 'you know what you want; make a plan and talk with R&D'. Three weeks later we had a machine ready.
"I really enjoy the job."