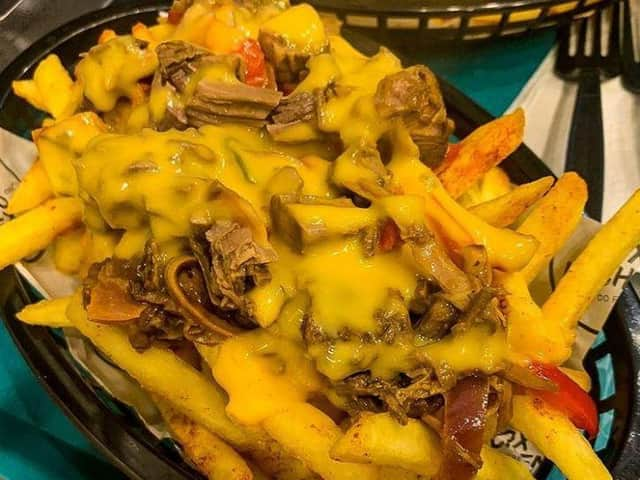 Box Kitchen's loaded Philly cheese steak fries
With a menu bursting at the seams with modern day street food classics such as loaded rice, burritos, wraps, burgers, and fries, the early signs were naturally positive.
"Opening in lockdown was a bit scary, but I've been doing this for 25 years and I know the town centre like the back of my hand, so we were quietly confident," explains Chris, 37. "Up until a few years ago, I was in the restaurant trade but I saw the market start to turn to people wanting food delivered and so I gambled and got out.
"We watched the trends and developed the Box Kitchen menu from there," adds Chris, who is from Preston. "We were busy pretty much from the start and the initial response was really positive.
Chris Maughan, founder and owner of Box Kitchen
"We do a lot of healthy stuff and, because you can pick and choose exactly what you want, we got a lot of people from the gym and from CrossFit who were after tailor-made food which they could calorie-count."
And then, with the number of coronavirus cases across the country trending upwards at a worrying rate, the Prime Minister encouraged people to work from home again wherever possible.
Overnight, the footfall trade at Box Kitchen was wiped out.
"We had to adapt to survive," explains Chris, with the cafe pivoting to an almost-exclusive takeaway service operating between 4pm and 9pm. "When lockdown kicked in again, people were asking if we delivered food in the evenings, so we got involved with things like Order In Preston, which is a great local delivery service taking on the likes of JustEat and which charges local takeaways a hell of a lot less.
Some of Box Kitchen's food
"It's a worrying time for restaurants," he continues. "It's all about survival."
In addition to adaptability and flexibility, Chris has shown no small amount of humanity as well, with Box Kitchen - which has two employees - having been one of the first eateries in Preston to sign up to be a part of the #EndChildFoodPoverty campaign led by Manchester United and England footballer Marcus Rashford.
In response to 322 Conservative MPs voting against a bill to extend the free school meal scheme over October half-term meaning some children would go without food, Rashford's campaign coordinated a swathe of restaurants and takeaways across the UK who stepped up to offer free food to kids.
"My girlfriend is a teacher and she was explaining how kids on free school meals sometimes didn't get fed when they weren't at school, and so she inspired me to get involved in Marcus Rashford's campaign," says Chris. "Hunger doesn't just go away, so we wanted to help.
"We've had loads of support from our customers and the general public, who've come in and given us cash towards it," he adds. "There are people worse off than us and being able to help has focused our minds.
"One lady sent her two little girls in and messaged us after explaining how she was a hard-working mother who had been made redundant and that they were living in sheltered accommodation, so the meals had really helped," Chris explains. "There's a lot of pride in being able to help when you hear that."
After mounting pressure, the government eventually u-turned on their decision and promised a £170m Covid winter grant initiative to support vulnerable families over Christmas whilst also announcing that the holiday activities and food programme will be extended over the upcoming Easter, summer, and Christmas breaks next year as well.
It's proved a popular victory for Rashford.
"Kids not having a meal is heartbreaking; you only have to imagine if one of your own or your niece or nephew was in that position and the penny drops," says Chris. "Seeing the MPs vote against the proposal is frustrating; I don't want to get dead political, but it's just not morally right.
"Marcus Rashford's only 23 and he's done all this," he adds. "He's a proper role model."