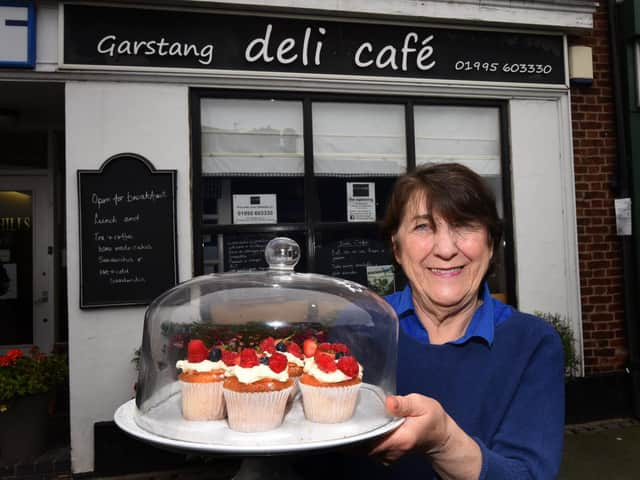 Gwen pictured outside the Garstang deli cafe
If you are looking for good food, home cooking and business flair Gwen, still catering as she reaches 80, is the go to person.
This Saturday she turns 80 and as Covid-19 restrictions have put paid to her party plans, she will be doing what she does best ... opening her Garstang deli-cafe for visitors.
Enterprising as always, Gwen who runs the business with daughter Jane and grandson Ryan, has created a new sitting out area for customers in a garden at the rear of her Market Place premises.
Gwen pictured with family members who work with her at the cafe - Beth Robinson, Ryan Dunn and Jane Robinson.
Gwen has "retired" three times, but cannot resist the lure of providing good locally sourced food for her satisfied customers.
She has been running the deli-cafe for nearly 10 years. But her love of catering work can be traced back more than half a century.
Gwen, who was born in Garstang and attended St Thomas's school and Greaves school at Lancaster before moving to Preston at the age of 14 and spending a year at Fishwick school did a number of jobs before finding her vocational passion
She said : "I started doing some catering when I was about 28. I just started doing bed and breakfast at a house I had. Then I got a little cafe in Preston called Moses on Cannon Street. I left there and retired for a little while and the people from the Conservative Club on Guildhall Street in Preston asked me if I would go and do lunches for them. From there I opened Friends restaurant opposite Moses - back to Cannon Street! I was there five years and we did live music and jazz."
Gwen pictured in the cafe's new outdoor seating area which was created during lockdown.
She continued: "I retired from Friends and went to live near Broughton-in-Furness in Cumbria. I used to do dinner, bed and breakfast. I did that for 10 years ... and then I retired again. I was retired for quite a long time but got bored and started looking for somewhere and found my little deli back in Garstang and that's the story of my life."
The premises had been run as a deli but were empty and Gwen set to work to revive the business.
She said: "I just love it. I love it. I've only ever really done home made food."
But she and Jane have also been innovative with their menus and keen to try new recipes.
She said during the lockdown they worked hard to create the cafe's new sitting out area.
The pandemic has meant Gwen has reduced her opening hours and days because the town is much quieter and there is less demand. Plus she has had to reduce to just three tables in the small cafe.
She said: "It's just an awkward time for everyone."
She had planned to take her birthday week off with her son Jonathan and brother visiting from abroad and have a grand party at local venue the Wyrebank. She said: "We were all going to have a wonderful week together and celebrate on Saturday. But I'm not the only one. Everyone who has had plans have all been disappointed,"
In typical Gwen style she has transferred the booking to next year and says she will celebrate then instead.
Asked for the secret of her success she said: " I think it's always being enthusiastic and loving it and I love meeting people as well as cooking. I'm still enthusiastic."
* The deli-cafe is open Thursday, Friday and Saturday from 10am to 3pm.