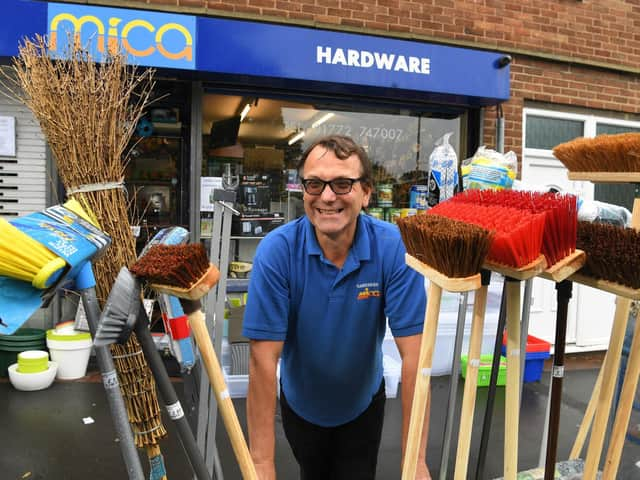 David Hodkinson, ownerofGardner's Mica Hardware store
Huge queues formed at stores across England, as non-essential shops began reopening to customers for the first time in three months.
But shoppers are being urged to support small independent businesses that don't want to be forgotten as big retailers take the lead.
Chain high street retailers and department stores, such as Primark, Debenhams and John Lewis, have reopened to customers for the first time since the lockdown began and have adapted with new safety measures in place.
Pam Deacon, owner of Pamela Jane Florist on Penwortham's Liverpool Road
But with many small businesses continuing to support their communities throughout the crisis and working hard behind closed doors, the call has been made to support these local retailers in Penwortham.
David Hodkinson, owner of Gardner's Mica Hardware store for 22 years, saw a huge increase in orders taken for delivery, as his shop doors remained shut.
"We closed when they first announced lockdown and did nothing for the first three weeks. I must admit, we have done alright because we have more than made up for the losses from when we were shut," he said.
"I had the shop phone transferred to my mobile and continued to take deliveries to customers and their payment over the phone. I have always offered a delivery service but normally I would get five or six daily orders but the demand has been much higher.
Sam Nanson of Penwortham Carpets
"People wanted certain products like paint and compost because they were doing more around the house."
The small shop, on Hawksbury Drive, has a temporary order counter built at the doorway for customers to order from. David, who is also at risk through suffering with asthma, then collects the item for them.
In a survey of 5,471 small businesses by The Federation of Small Businesses, owners found that 44 per cent of North West businesses were forced to close at the beginning of the coronavirus outbreak in the UK.
Of those that have closed, 38 per cent were unsure whether they would ever reopen again.
Pam Deacon, owner of Pamela Jane Florist on Penwortham's Liverpool Road, has seen similar positive scenes as her bouquet business reopens.
"I have still been working since the end of April and we have been really busy throughout the lockdown. I have been working behind closed doors and really busy with telephone orders," she said.
"We have actually been more busy than usual and have been encouraging our customers to pre-order to prevent too many people from visiting the shop.
"People are cautious and wary about coming in, but we have a counter guard, signs and hand sanitisers. At first it was the unknown that was worrying, as we didn't know what would happen, but like all businesses we have had to adapt."
As people continued to work on their home improvements, Sam Nanson and husband Mark, owners of Penwortham Carpets for 24 years, are seeing figures similar to their busiest yearly period.
"We have been busier than normal because everyone has been using this time to decorate their homes. Customer footfall has improved because we have been operating our business via email, Facebook and home visits.
"We are as busy as the lead up to Christmas, which is traditionally our busiest time of year. I think because the housing market stopped for a while, people are now in a rush to sell their homes or need to move quickly, so it has had a big impact on us.
"Measures we are taking in the shop include letting just one family group in at a time, offering masks to customers and sanitiser. It's all common sense."
Zaidha Roscoe has run clothes store Flamingo alongside her mum for 32 years, and have opened their doors again after months of closure.
She said: "We have made quite a lot of difference to the way we run our store. We do a lot of occasion wear, so can't have an open door policy as clients can often need two or three hours in the store, which would leave people waiting outside for a long period of time.
"It's been a case of managing the situation and being as prepared as we can. When someone comes in now they have the whole shop to themselves. Going forward, we will allow small numbers of people into the store when we can.
"It's very different at the moment because it is just me with private appointments. We've installed a screen on the counter and have two meter markings and are disinfecting everything. Clothes that are tried on have to be cleaned and left for 24 hours, and I can't even zip people into their outfits because I need to keep my distance."