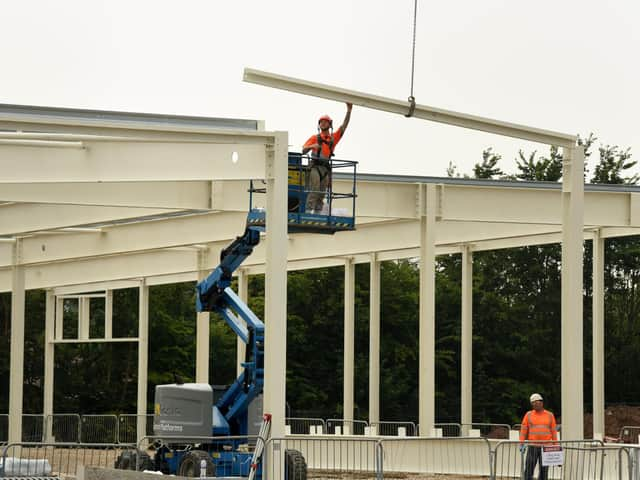 A steel beam is lowered into place
In the past week, large cranes have moved on site and huge metal beams have been lowered into place as the walls and roof structure emerge.
When completed, the store will feature grey composite cladding, a glass curtain wall and red brickwork, and it will be on the south of the site, near to the boundary with Penwortham Girls' High School. A self-service petrol station will be to the north, close to the main entrance off Liverpool Road.
There will be a new pedestrian linkway to Alcester Avenue, service yard access from Cop Lane and a slope for pedestrian access off Cop Lane, eight electric car charging spaces and 2.4m high palisade fencing around an existing telephone exchange.
The site was set for completion in December, but the global pandemic has slowed progress
There is also to be landscaping to be installed around the service yard and toward Cop Lane.
A Tesco spokesperson said: "We are excited to have started work on our new Penwortham Superstore which will aim to open in February 2021 to the local community. Our recruitment process for roles at the store will begin in November and we look forward to offering roles for people across the area."
The work to construct the 24-hour store, began in June.
Having acquired the land from Sainsbury's, Tesco had pulled out of building the store in 2018, but made a dramatic u-turn last October. Original plans were to open before Christmas, but delays were caused by the Covid-19 pandemic.
The supermarket building will be close to the boundary with Penwortham Girls' High School
The five-acre site has been fenced off for 10 years
A petrol station will be built adjacent to Liverpool Road