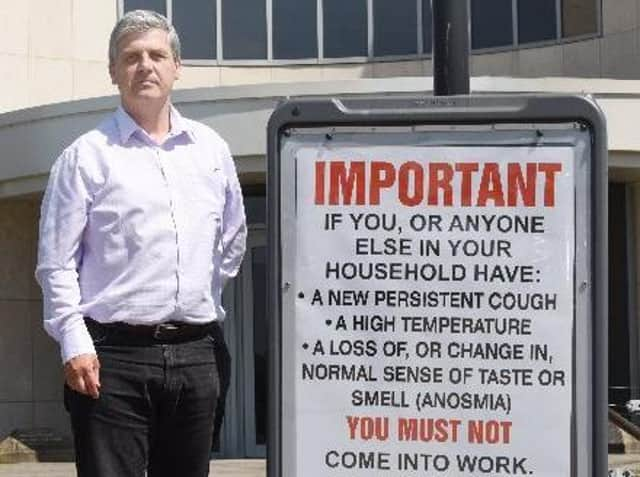 Steven Pickup of James Hall & Co
James Hall & Co, based at Preston, is the primary wholesaler to SPAR retailers throughout the North of England, serving over 640 SPAR stores.
It also owns and operates a number of other manufacturing and non-food businesses.
Like many other firms, it has had to reshape its working practices to ensure social distancing and safety precautions.
Steven Pickup, health and safety director for James Hall & Co, said the pandemic had posed challenges, but the firm was used to focusing on hygiene and safety.
The firm said there had been 18 confirmed coronavirus cases out of 3,200 employees, all of whom had been fully supported and self-isolated.
All necessary steps were being taken to ensure staff safety.
Many staff who could work from home were now doing so, and those staff who had to be there to keep the supply chain going were in fewer numbers.
The Post has been contacted by at least two workers who claim that some staff are concerned about working at the James Hall & Co site.
One said: "I am concerned for staff – there has been an outbreak of covid-19 within one of the departments, currently 9 staff have tested positive with another 14 showing symptoms.
"Bosses have refused to talk to staff members about this . No information has been given to the manual workers from any management and workers are extremely worried especially as they are not provided with any ppe, social distancing is difficult in some areas."
But Mr Pickup said all staff were actively encouraged not come in if they felt they had any symptoms, or to stay at home if they were at all concerned.
He said staff representatives were involved and consulted about all health and safety measures.
Mr Pickup said in some areas – like sandwich preparation – it was impossible to keep two metres apart so working practices had to be altered.
The World Health Organisation recommends a one-metre space between employees. James Hall& Co is now installing screens on the production line to aid separation between colleagues.
Arriving at the James Hall site off Bluebell Way, our temperatures were checked at the security gate.
All around the site are warning posters reminding workers abouthe virus symptoms and social distancing. Hand sanitisers are in plentiful supply leaving and entering every section.
Desks in the admin department are more spaced out and left empty, and screens are being installed.
Masks are voluntary - but some in the food processing department and other areas of closer contact choose to wear them.
Mr Pickup said: "It's so quiet in the buildling – there are so many more people in here normally.
"We have had to adapt. A lot of people are home working and that has worked well.
"Up until a couple of weeks ago we had a regular flow of people coming and going.
"Since the testing came in we have had a number of positive tests for Covid-19.
"We positively encourage people who are unwell or concerned not to come into work.
"A lot of people have not come into work, and many people who thought they might have it, did not have Covid."
He said official guidance on the pandemic was being updated regularly, and the company would respond.
Mr Pickup said the demand for products since the crisis had been strong as many people opted for a smaller SPAR convenience store rather than a supermarket.
But SPAR stores in garages had been affected by the lack of traffic going through.
A James Hall & Co spokesman said: "As a food manufacturer, we are used to implementing stringent hygiene controls and regular intense cleaning, and our dedicated in-house health and safety managers ensure that government guidelines and specific industry advice is followed and monitored, on a daily basis.
"In addition to following government guidelines, we have also implemented further safety precautions such as temperature monitoring on arrival, social distancing signposting, hand sanitiser stations, and enabling remote working wherever possible.
"We have had a small number of confirmed cases within the business, 18 cases out of 3200 employees, all of whom have been fully supported and adhered to strict self-isolation periods, in line with current government guidance.
"Staff at James Hall & Co. play a vital role in maintaining the production and distribution of food supplies, and their safety will always be of paramount importance.
"We will continue to ensure ongoing communication and support across the business, and follow all government guidelines and specific industry advice to ensure our staff's safety."