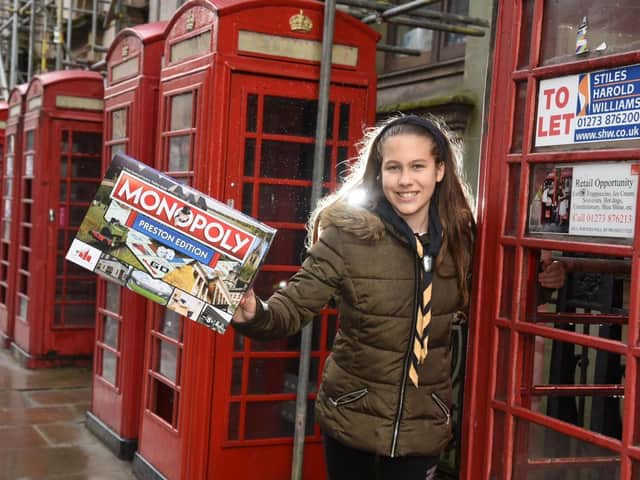 Megan Inglis with the new Preston edition of Monopoly
The much-anticipated board game hit the shops this morning (Thursday) - and the "Big Reveal" of the game sees The Grade 1 Listed Harris Museum & Art Gallery crowned the new "Mayfair of Preston"
Mayfair is the top spot on the classic London Monopoly board and in this unique Preston version of the world's most famous board game it will be a museum that occupies the leading position in the game.
And completing the board's most expensive set will be the Winckley Square Hotel, which gets to replace Park Lane from the Monopoly original.
The new Preston edition of Monopoly
Park Lane in real-life is the London capital of hotels .. so the Preston Monopoly bosses felt it was fitting that one of the North-West's most prestigious hotels gets to land on this very prestigious spot.
The famous Preston Guild Hall gets to 'live on' and be immortalised. In real-life it is currently closed.
But in the new game there is a card dedicated to it celebrating a "Grand Re-Opening".
Other landmarks starring in this edition include Preston North End Football Club, the red telephone boxes on Market Street, The University of Central Lancashire - UCLan, Avenham Park, No.10 Preston, both the Flag and Covered markets .. and lots more crown jewels of Preston.
Adrian LIvesey and Mark Inglis trying out the new game
Several charities 'Pass GO' too, including St Catherine's Hospice, One Voice Community Choir Choir and Dig In.
The train stations from the original board are handed over to a 'travel' theme including Preston Guild Wheel and Preston train station.
The makers of this new Preston version of the world's most famous board game are proudly describing the new game as "A Love Letter to Preston".
The Mayor of Preston, Coun David Borrow, said: "This is a very tough time for Preston and Lancashire so we need all the good news we can get.
Preston's very own Monopoly game - highlighting what's special about the city - is great and just in time for Christmas."
Mark Whittle, Preston BID Manager, added: "Preston is fortunate to be home to many outstanding businesses, charities, and landmarks.
"Playing Monopoly conjures up great memories for so many people – we are sure will be the perfect gift for many local people this Christmas."
The board has been produced by Winning Moves UK, under official license from the Monopoly brand, owned by Hasbro.
George Shrimpton, Custom Games Executive at Winning Moves UK, says: "We feel the game is a Love Letter to Preston. It is also, perhaps, the perfect limited lockdown gift and must-have for Christmas."
The new edition is available NOW at stores across Preston including WHSmith, Waterstones, Ryman, The Works - and from the Harris Museum.