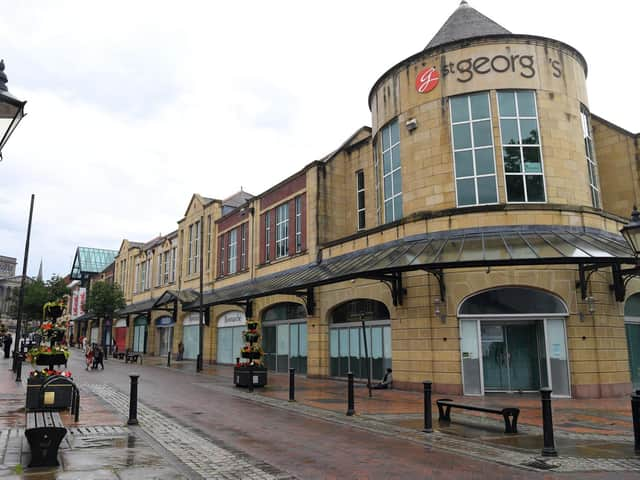 St George's Shopping Centre
Mowgli, founded by Nisha Katona, was set to take a new unit in St George's Shopping Centre later this year.
Now the shopping centre has confirmed that work on the new restaurants quarter has been paused.
But operators are confident the scheme will eventually go ahead.
This week Ms Katona revealed she was reviewing expansion plans for Mowgli in other towns and cities, but said Preston was now off the table.
Coun Peter Moss, Preston Council Deputy Leader and Cabinet member for Planning and Regulation, said: "This is disappointing news for Preston, but we appreciate how difficult things are for the hospitality and leisure industry in the current circumstances.
"We know this cannot have been an easy decision to come to, and will actively support Ms Katona should she wish to consider possible locations in Preston city centre as the business continues to grow.
"We are committed to supporting business and investment in Preston and remain optimistic for the future of the city centre."
Mark Whittle, manager of Preston City Centre Business Improvement District, said: "We are disappointed to learn that exciting brands due to locate in Preston may have had to temporarily re-evaluate their plans.
"There is no doubt that the worldwide Covid-19 pandemic has had a severe impact on businesses and they are understandably consolidating before investing in new sites.
"We hope that the economy recovers as soon as possible in order that we can look forward to welcoming further investment in Preston's leisure scene".
A spokesman for St George's Shopping Centre said: "Due to the impact of COVID-19, the works to the new bars and restaurants on Friargate have been temporarily paused.
"The health, safety and well-being of our visitors and employees remains our priority.
"We still consider the Friargate Restaurant Quarter to be an exciting opportunity to build on Preston's existing leisure offer.
"We would like to thank all of our visitors and tenants for your continued support and patience and following the full reopening of St George's last week, we look forward to seeing you soon.‎