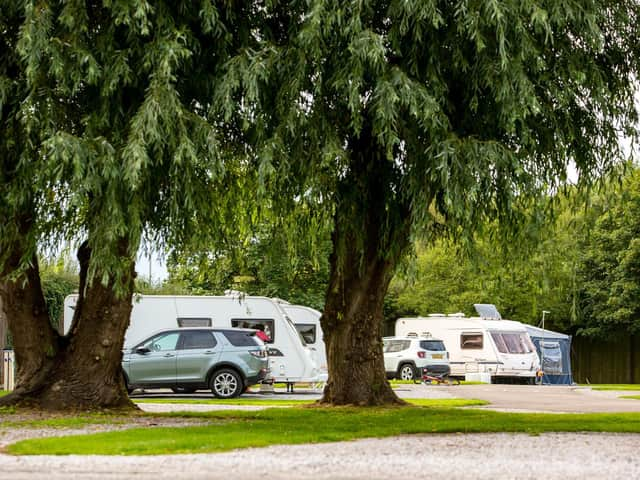 The Blackpool Caravan Club Site, currently closed due to the pandemic. Copyright: camc.com
The incoming 14-day quarantine for people arriving in the UK means people may consider a domestic break instead of a foreign trip this summer, after the Prime Minister said July 4 is the earliest date for hospitality businesses reopening.
Jane Lancaster, from Donkey Creek Farm, Freckleton, said they are expecting a high volume of visitors once lockdown restrictions are lifted.
"We are only a small campsite, but over the past week we have had more calls and enquiries from people who aren't sure about when we are reopening," she said.
"After only being open two years, this season was meant to be a success for us and it started off extremely well before the lockdown was introduced.
"We are still taking bookings and are expecting a high number of people visiting us in July, but because we are a touring park, we expect we may be one of the last to open."
Susan Pawson, from High Bank Holiday Park said they had an enquiry just half an hour after Boris' announcement about easing lockdown restrictions.
"We are still waiting to hear official messages from the Government about when we are able to re-open," she said.
The Blackpool South Caravan Club Site. Copyright: CamC.com
"We expect that there'll be many more people looking to book camping trips because they will be wanting a holiday in this country.
"I think we will still face problems with social distancing, and I think people and families need to be mindful of this even when restrictions are eased."
Gary Bonnette of Corner Hall Farm, said: "We had seen no enquiries since lockdown, and have now had 12 in the last 48 hours.
"European Travel is going to be fraught with expense and insurance companies running to the hills.
"Anything in and around the coast, we are 7 miles away, is going to be busy."
Other sites, such as Chippendale Park Caravan and Campsite said although they haven't seen an increase in bookings, they are "hopeful" that the restrictions will mean that more people will swap their all-inclusive breaks for a camping trip this summer.
Websites, such as ukcampsite.co.uk, give families the opportunity to book at over 200 sites across Lancashire.
Booking website Cool Camping said that Sunday was its strongest day for revenue since it began operating in 2006.
It also recorded a five-fold increase in the number of bookings during the week after Boris Johnson's announcement about easing coronavirus lockdown restrictions on May 10, compared with the previous seven-day period.
"The demand for camping is clearly there, and with foreign holidays on the backburner for the time being, people appear to be looking closer to home for their holidays this year," said James Warner, Marketing Manager for Cool Camping.
"We also expect to see a lot more first-time campers in 2020.
"With the usual holidays for some people seeming less accessible or appealing, we expect many will try camping for the very first time."
The Caravan and Motorhome Club owns sites across the UK, including Blackpool, and have seen future bookings up 14 percent year on year.
Director General Nick Lomas said: "Caravan and Motorhome Club bookings don't require a deposit and so customers can book safe in the knowledge they won't be left out of pocket if further restrictions are imposed or their own circumstances change.
"We are liaising with Visit Britain, Tourism Alliance and other campsite operators to ensure best practice operating, cleansing and safety protocols are developed to ensure we are COVID Secure when we are able to reopen campsites.
"Vehicle pitches already spaced at least 6m apart, inherently enabling family groups to maintain current social distancing guidelines, we have rigorous cleaning of all communal areas and we will increase the number of times they are cleaned, in particular the significant touch points and limit the amount of people who can use the amenities at any one time."
The Caravan and Motorhome Club has over 200 Club-operated locations and a further 2,300 smaller sites operated mostly by farmers and small rural businesses.
Deputy Chief Medical Officer Professor Jonathan Van-Tam said at a Downing Street press briefing that he will give "careful thought" to what steps would be needed to allow campsites and caravan parks to reopen.
He also commented that being outdoors is safer than being in an enclosed space with people who could potentially be carrying coronavirus.
Despite some travel restrictions being lifted in England, camping and all other forms of holidays are still currently banned.