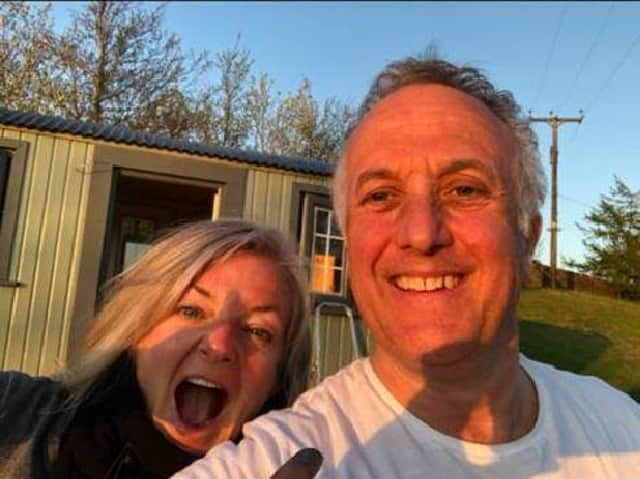 Lisa Campbell and Phil Morris, owners of Copy House Hideaway
But Lisa Campbell and Phil Morris created a deluxe glamping site.
With views over the rolling countryside on the border between Yorkshire and Lancashire at Earby, Copy House Hideaway features two luxury shepherd's huts with adjoining log cabins with their own wood-fired hot tubs, as well as fire pits and barbecues outside.
And, so far, the site has been a smash hit, having been fully booked-up until October for weeks.
One of the Copy House Hideaway huts
"I worked in the travel industry for 32 years before taking redundancy and getting a job in hospitality, so I know the holiday industry inside-out," says Lisa, a former long-haul aeroplane cabin manager who has traded 42,000 feet for the bucolic countryside. "An old boss had also mentioned how glamping and staycations were going to be the next big thing, and if he'd had a crystal ball he couldn't have got it more right!
"When we saw the cabins for sale, that was it," adds Lisa, who is originally from Ilkley but has lived in Pendle for 22 years. "We got someone in to totally re-landscape the field so that each hut is private whilst also having an amazing panoramic view of Pendle Hill and the three peaks in Yorkshire and they came along with the biggest machinery and, within three days, it was all done."
Explaining that the pair had been toying with the concept of a glamping site for three or four years, Phil - who has lived in the area for eight years himself having been born in Rawdon near Leeds Bradford Airport - says that, had it not been for lockdown, they would have never taken the plunge.
"If it hadn't been for lockdown, we'd have never had the time to concentrate on it," he says. "It was a totally unknown venture and we had to sort everything from landscaping, drainage, building, and I think that - luckily - we got 95% of it right.
One of the huts' interiors
"We happened to find two brand new shepherd's huts and that's where the excitement started.
"From there, we spent most of the time painting, varnishing, getting upholsterers in, and then we turned to the landscaping," adds Phil. "Seeing everything come together was exciting and a bit scary at the same time."
Nestled in the midst of the Yorkshire Dales, the Forest of Bowland AONB, and the Nidderdale AONB, the two huts - one designed by Phil and on by Lisa - are called The Heather Hut and The Bracken Hut.
Each is a picture of glamping luxury, boasting a double bed, en suite shower rooms, coffee machines, a log burner, fridge, freezer, microwave, kettle, toaster, hob, crockery, cutlery, and utensils, as well as WiFi.
"After the landscaping was completed, we realised what an amazing view we had," explains Lisa, who also comes armed with various pub recommendations, day-trip suggestions, and good walking routes. "There was a great sense of fulfillment seeing the whole operation come together - the whole thing took about four months all told."
Already earning a sterling reputation, Phil says that seeing the looks on the faces of satisfied guests is about as rewarding as it gets.
"When people come and they like what we've done and they can't believe the view or how quiet it is, that's great," he says. "We had a couple from Harrogate who came after they had to cancel their trip to America for their 30th wedding anniversary, and so they had a week with us instead.
"There's a lot of pride in what we've achieved, especially as a small business."
At the end of the day, the proof is in the pudding, and the fact that Copy House Hideaway's schedule is packed to the point of bursting says it all.
"We knew we were onto something good," says Lisa. "But we never realised it'd take off like this!"