Dragon magic, strange creatures and a roaring romance by various authors - book reviews -
Meet a boy with a tree that grows dragons, keep calm in a time of stress, discover some incredible sea life, and warm your heart with the tale of a love-sick lion as a glittering collection of children's books hit the book shop shelves.
Friday, 19th June 2020, 12:30 pm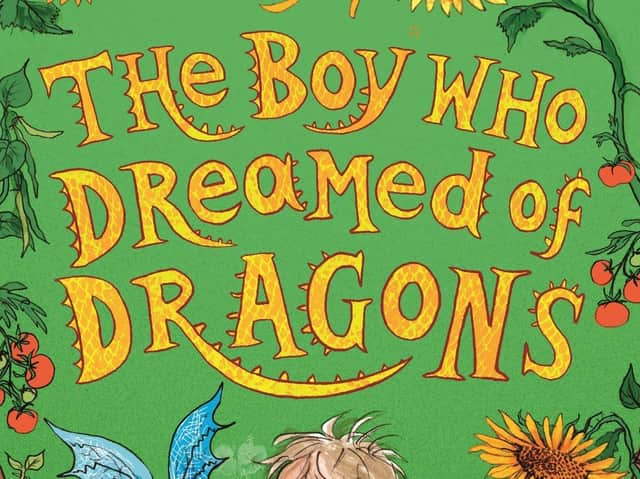 The Boy Who Dreamed of Dragons
The Boy Who Dreamed of Dragons
Andy Shepherd and Sara Ogilvie
Everybody knows that babies don't grow on trees… but not many people (whisper it!) know that dragons really do grow on trees!
Welcome back to the fourth warm and wonderful book in Andy Shepherd's exquisitely imagined and truly magical series about a little boy who has discovered a tree at the bottom of his grandad's garden which hatches out the most amazing creatures on earth.
Shepherd's debut, The Boy Who Grew Dragons, was shortlisted for the Waterstones Children's Book Prize 2019, the Sheffield Book Award, and long-listed for the Blue Peter Book Award, and the series has captured the imaginations of both children and their parents.
Illustrated by the award-winning and talented Sara Ogilvie, the books are packed with adventure, giggles and the joys of growing and nurturing, but also warm the heart and celebrate the strength that comes from family and friendship.
Eleven-year-old Tomas has a secret friend like no other… Flicker, a dragon with glittering eyes and scales that flicker from fiery orange to ruby red. But Tomas is also having to get used to Flicker being away, now that his dragon has gone back in the frosty North.
Fortunately, adventure is never far away for Tomas when he finds out that another dragon has hatched on the dragonfruit tree at the bottom of the garden… and the dragon has quickly decided he is sticking firmly with Tomas!
Zing is a tiny dragon with oversized wings, who causes havoc wherever he goes. When a new girl, Aura, starts at school, proclaiming herself to be a dragon expert, Tomas is thrown into confusion. He is the one with the dragons and the dragonfruit tree, after all!
Before he knows it, Tomas has blurted out his secret to Aura, and sets in motion a chain of events which will lead to yet more adventures and mayhem.
Refreshingly original, reassuringly gentle, and brimming with fun and adventure, this is the kind of series that is loved by all generations of the family.
(Piccadilly Press, paperback, £5.99)
Dr Sharie Coombes with illustrations by Katie Abey and Ellie O'Shea
Coping with the stresses and strains of the pandemic is hard enough for adults… so imagine how frightening and complex it must appear to children.
As part of their successful and sensitively created Mindful Kids series, Studio Press have published, Keep Calm! a fully illustrated, self-care book to help young people both during and after the Covid-19 pandemic.
Written by Dr Sharie Coombes, a child and family psychotherapist, the carefully devised activity book shows children how to feel more comfortable with the current uncertainty, stay safe, enjoy the positives, find hidden advantages, look forward to the future, and talk to others about their concerns and worries.
Children are encouraged to use their creativity to combat negative feelings and work out how to cope with these emotions through writing colouring, doodling, drawing, DIY and physical activities.
From feeling isolated from friends and families, to missing out on experiences at school, many children will be feeling worried about the sudden change to their usual routine. To address these problems, the self-encouraging and simple activities and exercises tackle emotions and address anxieties which children may be experiencing.
The charming and quirky illustrations of Katie Abey and Ellie O'Shea keep young readers entertained and focused as they work through the book, or simply dip into the pages for ten minutes of calming activity.
There is also a section at the back for parents, guardians and carers with important information on how to support children through this difficult and unprecedented time.
Other titles in this thoughtful and immensely constructive range of activity books for children from Studio Press include No Worries, Hello Happy, Stay Strong, Be Brave, Be Positive and Letting Go.
(Studio Press, paperback, £5.99)
Ultimate Earth: Oceans and Seas
Miranda Baker and Gareth Lucas
Take a deep breath, dive into the ocean and discover the biggest, fastest, scariest, weirdest and most amazing sea creatures!
With super-sized action flaps, intriguing fold-outs and mind-blowing facts, Ultimate Earth: Oceans and Seas is packed with the most incredible sea life… and lets youngsters explore, discover and learn at every turn of the page.
Watch as weird and wonderful, dazzling and deadly creatures spring to life. From the terrors of the sea – saltwater crocodiles, poisonous puffer fish and deadly box jellyfish – to speedy swimmers like Gentoo penguins and flying fish, there are creatures here of all shapes, sizes and colours.
Meet the butterflyfish which have a spot on their tail that looks like an eye to confuse predators, marvel at the mysterious colossal squid which can be as long as a bus, and get a close-up of the giant manta ray, a gentle, intelligent creature which has the biggest brain of any fish.
With intriguing flaps to lift, fascinating facts to ignite young imaginations, and a world of colour, wonder, and hidden dangers, this is the ideal book to entertain, educate and enlighten both children and parents.
You'll never think of our oceans in the same way again!
(Little Tiger Press, board book, £9.99)
Louise Fatio and Roger Duvoisin
Everyone's favourite lion finds a roaring good romance in a classic tale of love at first sight from one of the 20th century's classic picture book teams.
The Happy Lion Roars, an enchanting, warm-hearted and timeless storytelling odyssey, is the work of Swiss husband and wife team, Louise Fatio and Roger Duvoisin, and was first published over 50 years ago.
Duvoisin was born in Geneva in 1900 and studied art in Paris. He married Louise Fatio, another artist from Switzerland, and in 1927 they moved to New York City. Duvoisin wrote and illustrated 40 books, and illustrated over 100 more by other authors.
This stylish new edition is the follow-up to the couple's much-loved The Happy Lion which won the inaugural German Children's Book Prize in 1956 and retains the retro feel that has enchanted generations of readers and inspired many other illustrators.
Both books come from the stable of London-based Scallywag Press, a children's book company which aims to publish work by talented newcomers as well as classic titles and the work of favourite authors and illustrators with established reputations.
Here were find the Happy Lion decidedly sad and lonely because all his friends at the zoo seem to have a loving companion, and he is on his own. But when a beautiful lioness comes to town with a visiting circus, the Happy Lion pays her a visit and he instantly falls in love with her. Under cover of night time, the Happy Lion finds a way to release her and hide her in his enclosure. When she is discovered he won't let anyone separate them. Fortunately his friend François takes up his cause and finally convinces the mayor to let the lioness stay.
The adorable Happy Lion has lost none of his Gallic charm in this elegantly written and illustrated story which champions the importance of freedom, and celebrates the warmth, joy and power of friendship.
With its gentle sense of fun and mischief, beguiling French backdrop, tender portrayal of love, and a gallery of wonderfully expressive illustrations, this is a book which has stood the test of time and is the ideal gift for a new generation of readers.
(Scallywag Press, hardback, £12.99)
John Kelly and Carmen Saldaña
Easy come but not so easy go are the watchwords in this clever, comical and cautionary picture book from dynamic duo John Kelly and Carmen Saldaña.
Meet the Grumblies – starring a hilarious group of Neanderthal characters – offers a bright, colourful and quirky lesson in teamwork to all young readers who like their stories to come with a big dose of fun and giggles.
The Grumblies – Grumble-Stick, Grumble-Rope and Grumple-Mud – live in the land of Grumbly where bread rolls grow on bushes, squidgy fruit hangs from every tree and the pond is full of fizzy juice. You'd think they would be happy because they have lots of spare time to sit around but all they do is argue! So when a huge, hungry Gobblestomp arrives in their village and chomps and slurps all their food and drink, they need to decide which little Grumbly will banish the beast?
Kelly lets his imagination take flight for this fun-filled, slapstick tale of a combative clan who can't stop arguing while Saldaňa uses her broad brush strokes and colourful palette to bring all their frantic antics to glorious life.
Get ready to laugh out loud and fall in love with the warring Grumblies!
(Little Tiger Press, hardback, £11.99)
Steve Smallman and Caroline Pedler
Negotiating the ups and downs of friendship is all in a day's work for a busy little bear in a gorgeous picture book from top team Steve Smallman and Caroline Pedler.
If your little ones are bewitched and beguiled by reassuring and fun-filled adventures brought to life by a gallery of the most endearing illustrations, then A Friend for Bear will be their top pick at story time.
A Friend for Bear is the work of award-winning Smallman, who has taken up writing his own stories after illustrating children's books for over 30 years, and the very talented Pedler whose bold and yet tender illustrations melt the hearts of both children and adults.
Here we find Little Bear waking up from his winter hibernation and in a hurry to smell the flowers, see the baby animals, climb trees and find a friend! But she's so excited and frantic that she is in danger of not taking the time to enjoy it all. And will she realise that the friend she has been searching for has been with her all along?
This beautiful book of mindfulness 'bears' all the hallmarks of Smallman's sharp eye for humour and youthful mischief and joie de vivre as he celebrates spring and new friendships with a cast of adorable animal characters.
Brimming with fun, warm-hearted messages, and Pedler's bold, vibrant illustrations (complete with that special 'aaah' factor!), this is destined to be a firm family favourite.
(Little Tiger Press, paperback, £6.99)
Mini Monsters: Can I Play?
When friends muscle in on a mini monster Sparkle's show, the sparks really do begin to fly!
If your own little mini monster is getting ready to start preschool, this cautionary tale – the first in an enchanting new picture book series – is guaranteed to teach valuable lessons in the most delightful way.
Mini Monsters: Can I Play? comes from the exciting pairing of bestselling Peak District author Caryl Hart and talented debut illustrator Tony Neal whose work is inspired by everyday life and its quirky realities.
Set in a preschool for mini monsters, this educational and entertaining series stars four lovable characters who are learning important lessons about friendship and how to get along.
In Can I Play?, Sparkle is getting ready to put on a magic show with her best friend, Arthur. But when Scout tries to join in, Sparkle loses her temper and cancels the show. Soon, however, she starts feeling sad and lonely and discovers that some games are much better when they are played with all your friends!
This bright, bold and colourful tale of friendship, sharing and life lessons is ideal for little pre-schoolers learning to deal with big emotions, and will be a firm favourite on bookshelves both at home and in nurseries and preschools.
(Simon & Schuster, paperback, £6.99)