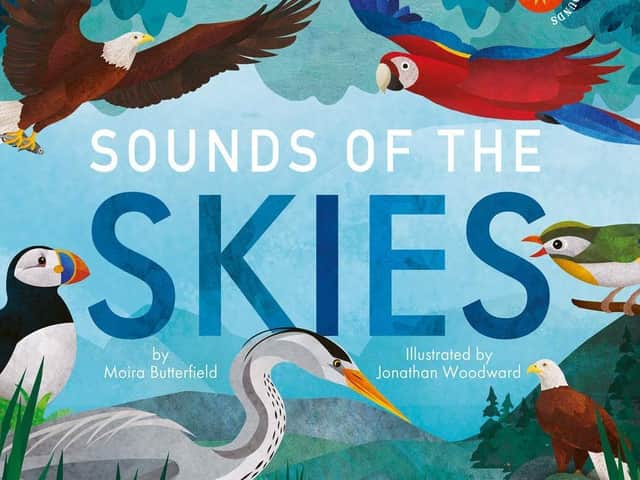 Sounds of the Skies
Keep your youngsters out of mischief this summer with a super selection of activity books guaranteed to inform, educate and entertain.
Moira Butterfield and Jonathan Woodward
Imagine you could fly around the world in the blink of an eye!
Step into the pages of this stunning book and enjoy seeing and listening to some of the most amazing birds on our planet.
There are six truly wild sounds to marvel at as you journey through a host of fascinating wildlife facts and fabulous illustrations. Press the sound symbols on every page spread and hear the mighty bald eagle calling from the sky, an ostrich booming in the Serengeti, a tawny owl hooting in the silent night, and a Chinese nightingale chirping in the mountain trees.
Packed with exciting discoveries, unforgettable bird calls, a map of the world to put each bird in focus, and Jonathan Woodward's richly coloured and detailed illustrations, this innovative and creative book is the perfect gift for young explorers.
(Little Tiger Press, hardback, £14.99)
Phillip Clarke and The Boy Fitz Hammond
If you're looking for a book to keep young brains ticking over during the summer holiday, Usborne's bright and busy animal wordsearch is guaranteed to both inform and entertain.
Children can test their word and problem solving with over 100 animal-themed wordsearches, covering animals of the world from aardvarks, sharks, tree frogs and zombie worms to from dogs, rabbits, sloths and giraffes.
With a gallery of The Boy Fitz Hammond's fabulous, multi-coloured animal illustrations, the wordsearches take youngsters from the Atlantic Ocean to the Florida Everglades, across the African grasslands and on to the Amazon rainforest and Antarctica.
The searches gradually get harder throughout the book and are ideal for quiet times alone or for playing with friends and family. And don't despair if you can't find all the words as he answers are provided at the back of the book.
A welcome gift for young wordsmiths!
(Usborne, paperback, £5.99)
Here's a boredom-busting puzzle pad that's guaranteed to keep your youngsters out of mischief this summer!
The fun-packed, gorgeously illustrated and designed Summer Puzzle Pad contains over 100 picture, word and number puzzles which can be enjoyed alone or shared with friends.
From creepy-crawly anagrams, a beach wordsearch and a maze leading to a secret den, to spotting identical fish at an aquarium, joining the dots to find a farmyard animal and finding out whose kite string has broken, these summer-themed puzzles are fun and challenging.
And if you're stumped, you can turn to the answers at the back of the book.
Ideal for long journeys or rainy days!
(Usborne, paperback, £6.99)
Little First Stickers Seashore
Jessica Greenwell and Stephanie Fizer Coleman
It's time to get stuck in!
Little ones will love getting their hands on this colourful first sticker book and discovering all the amazing things to do, and creatures to see on the seashore.
Visit a sandy beach, add crabs and starfish to rock pools, see sea birds and puffins fly high in the sky, dive into the ocean with sea otters and lots more in this fascinating book which offers both entertainment and information.
With over 240 stickers of animals, plants, and fish to decorate the pages, including seals, otters, turtles, cormorants, crabs and lots of other interesting sea creatures, this is the perfect introduction to the wonders of the seaside.
(Usborne, paperback, £5.99)
Jessica Greenwell, Damien Barlow and Lisa Barlow
Join a host of little animals on a journey of writing discovery!
Learning to control a pen or pencil on a page is one of the hardest skills a young child must master if they are to begin writing letters and numbers. It takes time and a lot of practice so this Usborne Early Years Wipe-Clean book is the ideal first step.
The traceable lines include all the different shapes and movements needed to form the letters of the alphabet, and the starting dots encourage little ones to move their pen in the right direction. And the durable, wipe-clean pages allow them to trace over the pictures to practise the movements and shapes again and again.
Fun activities involve drawing straight and wavy lines, tracing over circles and spirals, and simple puzzles featuring a cast of quirky animal characters. And with a special wipe-clean pen and helpful notes and tips for grown-ups at the back included, this is the perfect starter package for your budding wordsmiths!
(Usborne, paperback, £6.99)
Poppy and Sam's Noisy Tractor
Sam Taplin and Stephen Cartwright
The adventures of farmer's children, Poppy and Sam, have been a family favourite for over 30 years and now the two little rascals are back for some noisy fun!
In recent years, Usborne has given the evergreen stories in this enchanting series a bright and colourful makeover for a new generation of little ones… without losing the magic of the original titles.
The books feature the original artwork of the late Stephen Cartwright and are full of that special child-appeal which has seen the Poppy and Sam stories sell million copies throughout the world.
In this super new press-the-page sounds book, we find Ted's out-of-control tractor causing chaos on the farm as it crashes through fences and careers into the pond! Can Poppy and Sam help to save the day?
Little ones will love pressing the buttons to hear sounds that bring the story to life… Rusty the dog barking, Dolly the carthorse neighing, and the tractor chugging along.
This gentle story, with its fun sounds, is full of timeless charm, and the good news is that there is still the added fun of finding the hidden Little Yellow Duck on every page!
(Usborne, board book, £12.99)
Under the Sea Matching Games
Kate Nolan and Gareth Lucas
It's never too early to encourage young mind skills…
And this fun and simple board game for children aged two and over is perfect for helping to develop recognition, memory and communication skills.
The sturdy box set contains 36 vibrantly illustrated picture cards, four bingo boards and a book with instructions and lots of fascinating facts about creatures that live under the sea.
With bright and colourful cards to match and talk about, and four different boards to use for games, there is guaranteed fun all the way with this super box of tricks.
So get ready to meet your match and learn lots more about the sea creatures we all know and love… dolphins, walruses, turtles, penguins, jellyfish, crabs, octopus… and sharp-toothed sharks!
(Usborne, box set, £7.99)
Becky Davies and Lara Paulussen
There's a whole world of nature ready to pop up before your eyes in this bright, colourful and beautifully created pop-up book for the very youngest readers.
Little ones can find out which animal lives where as they explore high and low to find honey bees' nests made from honeycomb, a cosy home for baby mice, monkeys swinging high in the treetops, sea turtles resting on coral reefs, a mother bird taking a rest, and Arctic foxes snuggling in their snow shelter.
With gorgeous illustrations by Lara Paulussen, Becky Davies' playful rhyming text and simple, fascinating facts on every page, this stylish pop-up book is the perfect way to explore the natural world of wonders.
(Little Tiger Press, board book, £10.99)
ABC Nature: Touch and Trace
Nicola Edwards and Thomas Elliott
Give your little ones a hands-on vocabulary lesson with this bold and beautiful board book.
From acorn to zebra, giraffe to penguin, and cloud to volcano, the natural world springs to alphabetical life as little ones touch and trace each tactile letter on their fully illustrated journey of word discovery.
Inspired by the beauty of the great outdoors, ABC Nature: Touch and Trace will help to develop your child's vocabulary and hand to eye co-ordination as well as encouraging a lifelong love of nature.
The ideal book to shape up for the future!
(Little Tiger Press, board book, £9.99)
Bear & Mouse: Start the Day and Time for Bed
Nicola Edwards and Maria Neradova
From morning to night, every day is full of adventure!
Join best friends Bear and Mouse as they start and end their day with two gorgeously illustrated and designed interactive board books from author Nicola Edwards and illustrator Maria Neradova.
With adorable illustrations and an enchanting text, these clever books introduce little ones to first experiences in a fun and friendly way and encourage them to join in the activities with Bear and Mouse by pushing slides and lifting flaps.
From the wakey, wake, rise and shine, sharing breakfast and getting ready for the day, to winding down for a bath, putting on pyjamas and enjoying a bedtime story, there is so much to share and learn along the way.
(Little Tiger Press, board books, £6.99 each)