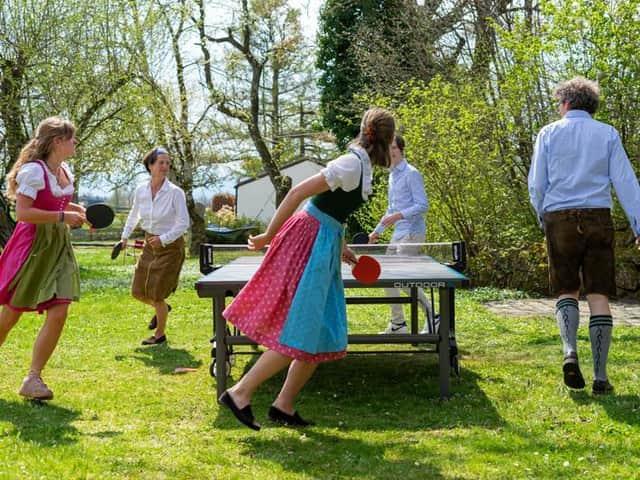 Jai Ashton stayed with his girlfriends family in Bavaria for six weeks during the German lockdown
Despite contracting the coronavirus, Jai Ashton was able to capture the images from his six weeks in Bad Tolz south of Munich and the result was a first-class grade.
The 23-year-old from Parklands Avenue, Penwortham, went to visit his girlfriend Julinka Brecht just as lockdown was introduced across Europe so he found himself on an extended break. He used the time to give a boost to his University of South Wales course.
Jai said: "The piece I've done is a long-form documentary. A lot of people on the course ended up documenting their lockdown experience so I decided I would do the project while I was in Bavaria.
Jai Ashton was able to capture the images from his six weeks in Bad Tolz
"It was really good, very different but very enjoyable. The place we were living was absolutely gorgeous, with mountains.
"If you think of the Sound of Music, it was a bit like that.
"At Easter the family had various traditions and there was traditional dress like lederhosen, so I was able to capture that."
The couple eventually contracted Covid-19 but recovered relatively quickly.
The photography student captured German family life
They have now had antibody tests which demonstrate they have had the virus. They are back in the UK, having travelled over by rail shortly before quarantine rules were introduced.
Jai had to edit down his 2,500 images from Bavaria into 48 for the book, which was marked as a 'first' by lecturers.
He's so proud of it the student plans to give a copy to his nan Janet Ashton from Fulwood, who gave him his first camera when he was 21.
Looking to the future, Jai has plans to forge a career in photo-journalism, possibly branching into news or war photography. Certainly, his experience of capturing life in a culture away from his Lancashire home has proven to be a success.
Jai used his time in Germany to complete a photographic project
To check out more of Jai's images, access his Instagram page @jaiashtonphotography