Morecambe Fringe Festival will be streamed on Facebook this weekend
The fourth Morecambe Fringe Festival will return on World Fringe Day, July 11 for a special digital weekend of celebrations.
Monday, 13th July 2020, 3:57 pm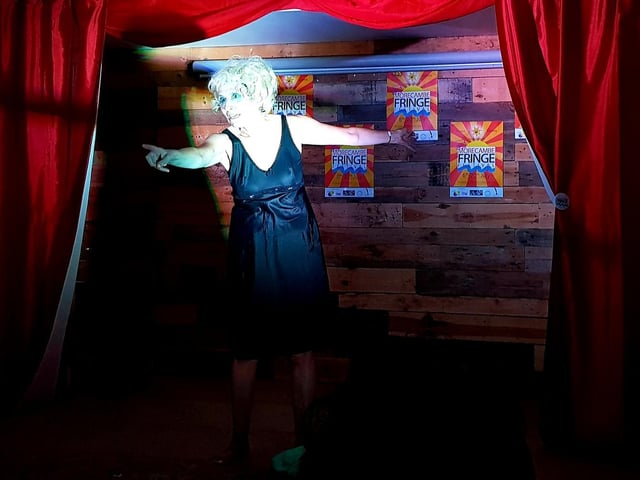 Caroline Cooke as Yootha Joyce at Morecambe Fringe 2019. Photo by Paula Binney 2019 Fringe.
Covid-19 has left no area of either life or the world untouched, and the world of the arts has been devastated.
Matt Panesh, festival director said: "In these turbulent times, we've reached out for support from across the world, and we got it. We've teamed up with New York City's Frigid Fringe, they've lent us their infrastructure so we can put work out. We have about 29 shows that will be available on Facebook, and YouTube.
"We've teamed up with social isolation social enterprise 5asideCHESS to run a short story competition about Covid-19, with stories read out be the West End Players, the local community theatre group, and voted for by the public.
Matt Panesh, director of Morecambe Fringe Festival at last year's Fringe. Photo: I Photography.
"The festival and the competition will be run on our Facebook page and is completely free. We'll be having a donation link and the donations will be shared equally between all the performers and crew.
"This year's festival was due to be Morecambe's biggest and best yet, with more than 100 shows running across the entire town over three weeks, running on the 'fringe' of the other festivals, including Pride, the music festival, the scooter festival, exactly like a fringe should do.
"People forget that in Edinburgh during August, there's not only the fringe, but the International Festival, the art festival, the television festival, the book festival and the tattoo, all linked together to create an incredible experience for residents and tourists alike.
"This year's place-holder digital fringe is rammed with talent. We have New York City's comedian Mike Lemme, who was going to be performing in Morecambe for the first time this year, before hitting the Edinburgh Fringe.
"We have Gypsy Pistolero's front man Lee Mark Jones' solo show Rock'n'Roll Suicide, he performed this last year at Edinburgh Fringe which led to the band being signed to a record label and rising from the ashes. We have Morecambe Fringe favourite Caroline Cooke reprising her wonderful show Testament of Yootha, and tons more.
"We're also running a short story competition with the social enterprise, 5asideCHESS, who brought their bus to Morecambe in 2018.Morecambe Fringe Festival and 5asideCHESS, have got together to run a short story competition as part of this year's virtual Morecambe Fringe 2020.
"Your 250 word story will be based on your journey navigating the Covid-19 pandemic. Weave your story from your hopes and fears for yourself, your loved ones, and the world through this period."
The competition will be open to all and split into age group categories. Judges will shortlist five entries from each age group category. Under 20, 20-49, 50+.
You will be able to listen and read each of these stories through the fringe social media throughout the Festival held over July 11-19.
Winners will be chosen by votes from the panel of judges and through public voting.
The winners will be announced on July 19.