Lancaster University students' artwork showcased online in special exhibition
Students at Lancaster University's Lancaster Institute for the Contemporary Arts (LICA) have risen to a major challenge amidst the coronavirus pandemic and will showcase their work online this year.
Friday, 12th June 2020, 9:33 am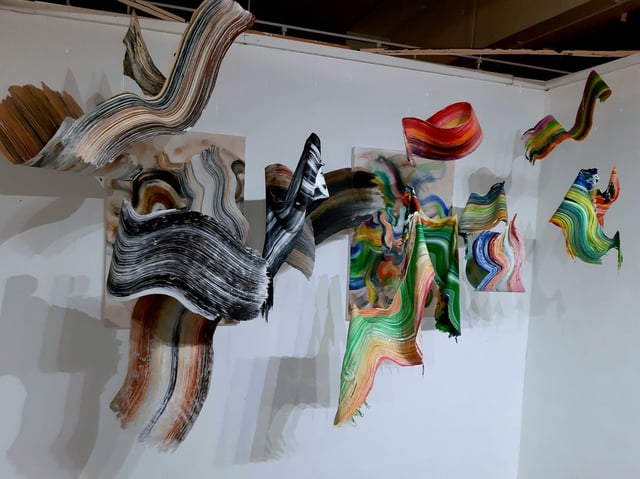 Lancaster University artwork exhibition. Installation and sculptural painting by Georgina Carter entitled Inside the Paintings: Traditional to Contemporary.
The prevailing lockdown circumstances and restrictions have not prevented students from showcasing their talent and hard work in their final year degree show celebrations, to be launched at https://www.lancaster.ac.uk/lica/degreeshow/ from 6pm on Thursday, June 18.
The show replaces the traditional on campus celebration and is part of nationwide #degreeshowsunited activity.
'Borderless' is the culmination of three years' innovative work by students from Fine Art, Design, Film and Theatre.
Lancaster University online artwork exhibition. Artwork by Harriet Furness entitled Abstracted Landscape .
Their varied and engaging work demonstrates that diversity in artistic mediums is truly borderless: from painting, drawing and sculpture to new media work, film, design projects, and performances; many of these disciplines expand and cross boundaries resulting in exciting new possibilities in an uncertain age.
The online exhibition, developed especially for LICA, is designed to stimulate flexible audience interaction – audiences can traverse and tour 'Borderless' in a variety of ways, searching via theme or medium, or randomly exploring the diverse work made in the department.
Each student or project have designed and produced unique content for their own pages, so the full variety of LICA's creative output is on display.
It represents the creative solutions that have been adapted in what many consider restrictive times, replacing the traditional physical on-campus exhibition which draws more than 500 visitors each year.
Lancaster University online artwork exhibition. Final year BA Drama, Theatre and Performance student Phoebe Mycroft in Some Obligatory Inhibitory, staged on 16 March 2020. A video with the cast of six can be seen on the website. Picture by Tom Wilson.
Student Chair organisers of the event, Liv Gresswell and Skye Williams said: "Though decided before this pandemic, 'Borderless' seems to encompass what we are all now striving for - for the borders of our homes to no longer imprison us and for the borders of lockdown to be eventually lifted.
"In a time where we are suddenly surrounded by borders, 'Borderless' hopes to offer a way out, for you to access wherever and whenever via a new online platform."
Please go to https://www.lancaster.ac.uk/lica/degreeshow/ for the online show which will go live at 6pm on Thursday June 18.
It will also join forces with many other creative degree show exhibitions across the country, using the #degreeshowsunited hashtag.
Lancaster University online artwork exhibition. Students Lucy Turnbull (BA Drama, Theatre and Performance), Cassia Lima (BA Spanish Studies and Theatre) and Robyn Weir (BA German Studies and Theatre) dance in a scene from A Woman Like Me, which explores the undue emphasis that society places on female body image. A video of the show can be seen on the website. Picture by Tom Wilson.
Director of Lancaster Institute for the Contemporary Arts Professor Judith Mottram, said: "When initial thinking about 'Borderless' commenced we were thinking of a different sort of boundary-crossing, between and within disciplines and thinking.
"Now our graduate cohort are crossing borders into different sorts of worlds, with different means and different opportunities. They have creative wings."